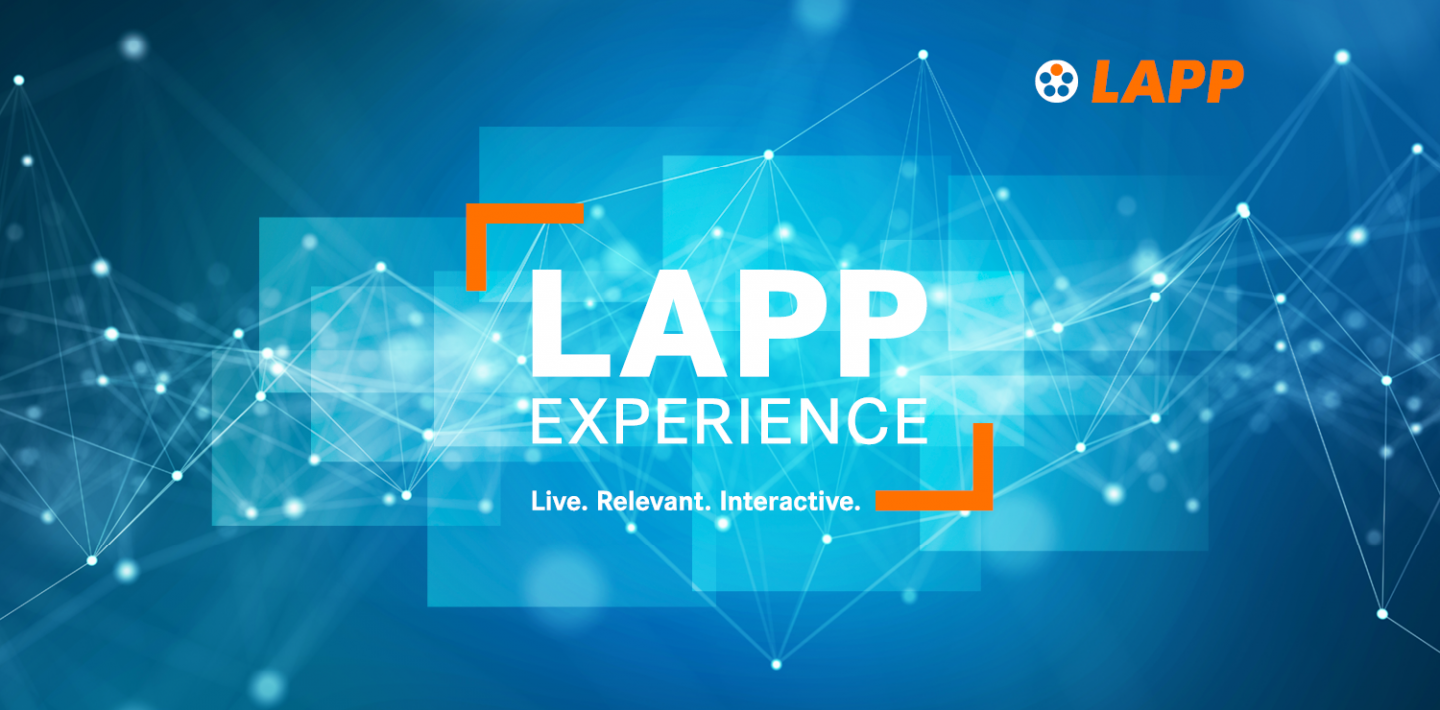 | | | |
| --- | --- | --- |
| | | |
| | LIVE | |
| | | |
| | Tune in! | |
| | Our experts will bring you fascinating insights into the latest trends in cable and connection solutions and innovative developments at LAPP with numerous online sessions. We'll be showcasing our connection solutions from a single source with more than twelve hours of live streams: from downsizing with single-pair Ethernet, custom cable assemblies and complex drag chains, to smart logistics and service solutions, we support you throughout each phase of the project so that you can focus on your core business. | |
| | | |
| | | |
| --- | --- | --- |
| | | |
| | RELEVANT | |
| | | |
| | Topics that connect | |
| | From new technologies such as single-pair Ethernet, our logistics services and digital options, through to system solutions such as ÖLFLEX® CONNECT: find out all you need to know about new developments, challenges and trends in connection technology from our LAPP experts. | |
| | | |
| | | |
| --- | --- | --- |
| | | |
| | INTERACTIVE | |
| | | |
| | We focus on direct communication | |
| | Ask our experts live questions and discuss your current projects in your personal consultation. We'll work with you to find the right solutions for your requirements. | |
| | | |
| | | |
| --- | --- | --- |
| | | |
| | We think in terms of solutions | |
| | Reliably connecting the world – find out how LAPP lives up to this aspiration, systematically focuses on customer requirements and is developing from being a cable manufacturer to provide solutions for connection technology. | |
| | | |
| | | |
| --- | --- | --- |
| | | |
| | Our idea of a system – ÖLFLEX® CONNECT | |
| | Discover our connection solutions all from a single source: whether custom cable assemblies, servo solutions for all industry standards or complex drag chain systems, with ÖLFLEX® CONNECT we offer the right option for your requirements. Learn more about the benefits and our practical experience! | |
| | | |
| | | |
| --- | --- | --- |
| | | |
| | Industrial communication for different applications | |
| | The requirements pertaining to communication within and between machines are growing – but so are the technical possibilities. Find out more about suitable technologies and product solutions for industrial communication as well as the trends of tomorrow. | |
| | | |


INTERNATIONAL
Digital brought to you
The LAPPexperience is international. On the first day of the event, all of the presentation will be in German. The second day on 12 May is dedicated to our international customers and all presentations will be in English. You can also visit our international colleagues at their virtual stand and arrange an appointment for a personal consultation.


Participate and Win
Become a LAPP expert!
During the LAPPexperience, you'll have the chance to be one of five winners of an iPhone 12 mini. Become a LAPP expert yourself, answer the questions in our quiz and you'll be in with a chance to win. Find more information about the competition in the LAPPexperience.
Agenda
You'll find these and many other topics
in the LAPPexperience. Take a look at our agenda
to find out what's on offer.
Our agenda
Register now for free

Please join us – live and digital.
We look forward to seeing you!
#stayconnected
Register now for free