What if every household in Germany became a smart home through networked everyday objects? If the streets were full of cars without drivers? If production processes were fully automated? These and similar scenarios reflect the expectations of the industry for the new mobile phone standard 5G. But more networked end devices in the system also mean more data volume. Whenever there is a massive increase in data traffic, there is also a need for ever larger network capacities. This is especially true for the Internet of Things in industry and logistics. In the automation of production lines, 5G can significantly improve machine-to-machine communication (M2M). The powerful wireless standard enables real-time communication between machines in a factory, provides the basis for autonomous driving and higher reliability and network stability. But all this is only possible with a mature 5G network.
The German government wants to complete the rollout of 5G networks in Germany by 2025. At least for end consumers. That's because the 5G rollout still poses a number of challenges for the industrial environment. For example, it requires extensive fibre optic connections and decentralized data processing in the network on site. 5G infrastructure is a wide-ranging subject that has been researched and developed for years – in part with LAPP's support.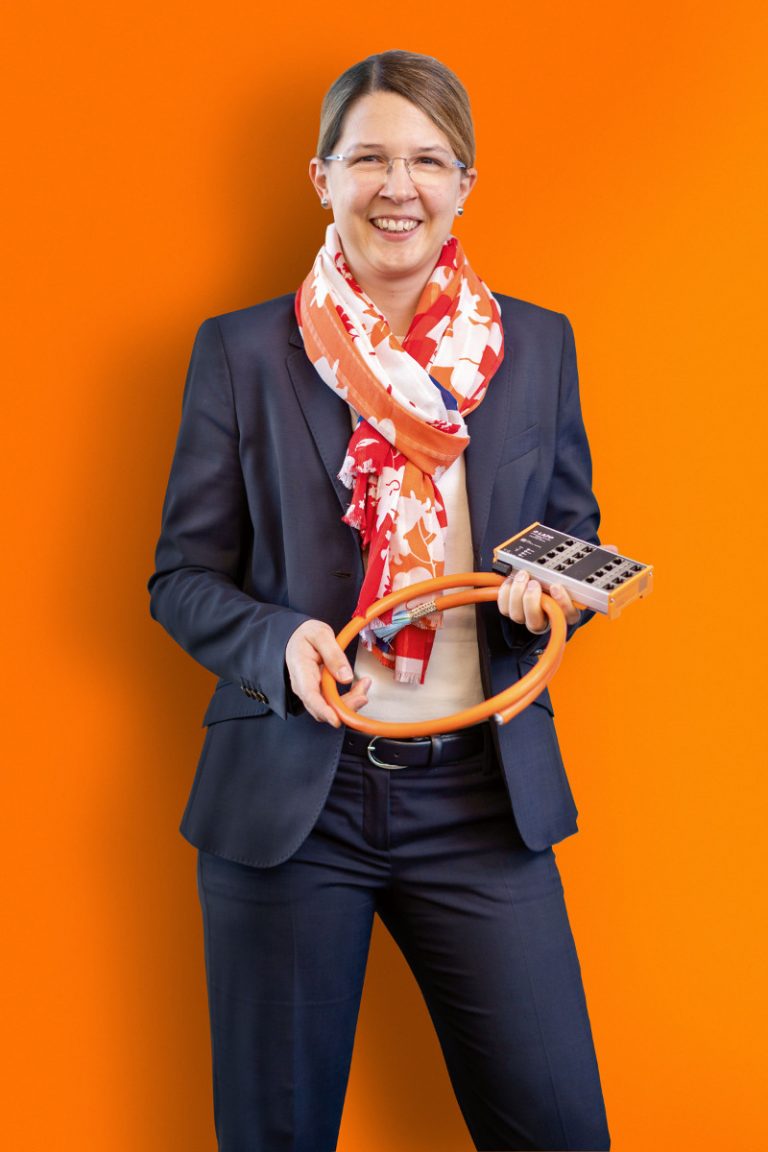 LAPP continues to develop its core area
What does a cable manufacturer have to do with mobile cellular technology? In fact, quite a lot. After all, 5G can't exist without cables: "The wireless factory remains a utopian dream," says Dr Susanne Krichel, Senior Manager Business Development IoT at LAPP Holding AG in Stuttgart. For LAPP as a cable supplier, 5G is not a threat. Instead, it represents an expansion of the current business area of industrial communications. Ultimately, cabling remains necessary simply for supplying power to the technology or connecting the access points for the machines. 5G technology is taking industrial communications to a whole new level of performance – and LAPP is committed to making it a reality. For the family-owned company, Industry 4.0 with its technological possibilities means new development opportunities in product and consulting services. When all's said and done, industrial communication is one of the core areas of the company that is constantly being expanded with new products and services.
Faster, farther, more flexible – the highest standard for industry
But what exactly is 5G? It is the next step in the evolution of the Long Term Evolution (LTE) mobile communications standard, the fourth generation of mobile communications (4G). The previously upgraded 5G network eMBB (Enhanced Mobile Broadband) is mainly used by end consumers. It is built on 5G base stations in existing 4G networks in so-called "non-stand-alone" (NSA) mode. For streaming or using apps like Instagram, this bandwidth is perfectly adequate. On the other hand, the services required in the industrial sector require LTE-independent 5G networks in "stand-alone" (SA) mode – and thus an even higher data transmission rate.
The 5G SA improves on the already existing application of the Industrial Internet of Things (IIoT). Data can now be sent through the network at up to 10 gigabits per second in the uplink and even up to 20 gigabits per second in the downlink. A huge volume is therefore transported at top speed: Latency times apply of approximately one millisecond and data forwarding of up to 500 kilometres per hour.
This results, for instance, in better mobility properties when in motion – an important factor for precise machine control in production, e.g. when using robots. With the 5G SA, completely new standards in networking are possible, such as linking up to one million mobile devices per square kilometre. Thus, 100 billion end devices would be able to communicate simultaneously worldwide. And all this without any cables? Not quite. "Wireless can be useful where mobility and flexibility are required. But no farther than the next cable. That's because even in the future the 5G infrastructure will have to be wired," explains Dr Krichel.
Learn more about 5G in industrial applications in our article in the new 5G guide of the Mechanical Engineering Industry Association (VDMA).