60 years of LAPP, 60 years of future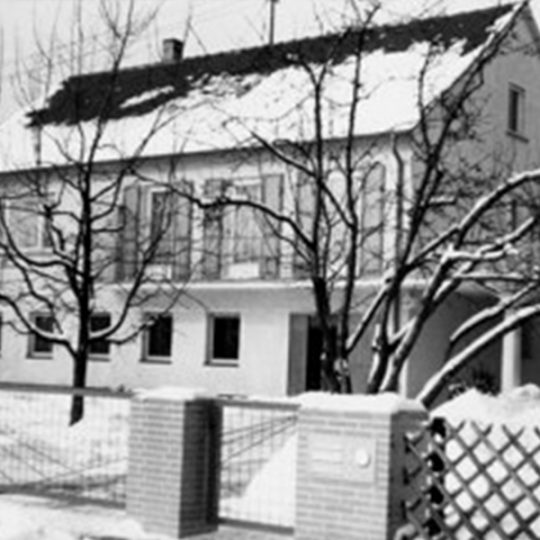 1957 ÖLFLEX®: The beginning of our story
It is the age of West Germany's economic miracle, and industry is booming. But in factories, workers still have to manually insert wires individually into sheaths when cabling machinery. This is a complex and time-consuming process. Oskar Lapp has a better idea. He develops the first flexible, industrially manufactured control cable with different coloured cores. Oskar and Ursula Ida Lapp name the oil-resistant and flexible cables ÖLFLEX®. By doing so, they create the first branded product in this sector. In the beginning, the company is based and stores its products in the couple's house in Stuttgart's Vaihingen district.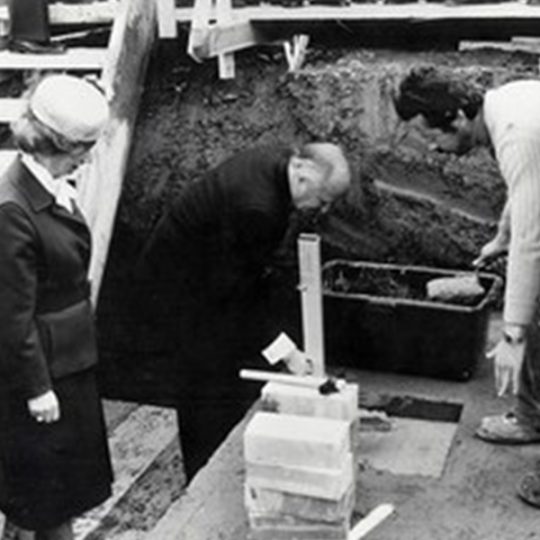 A dream come true
Ursula Ida Lapp registers the company U.I. Lapp KG, named after herself. For Oskar Lapp, it is the realisation of his long-held dream. The company begins operations with a bank loan of 50,000 marks. Oskar Lapp focuses on the technical side, while his wife Ursula Ida takes care of commercial matters.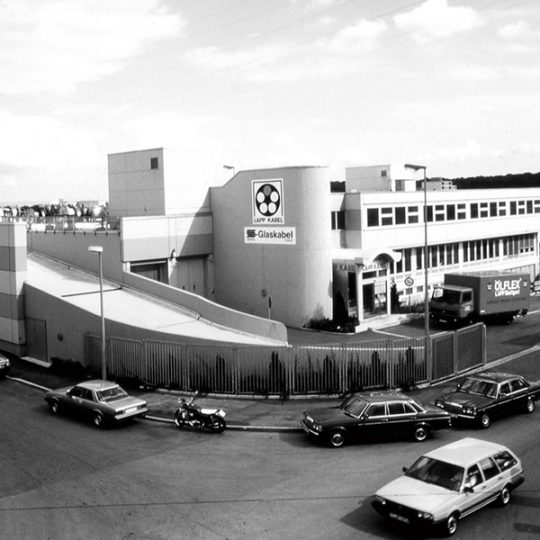 The company grows
The Lapps found further companies, including Lapp Kabelwerke GmbH in 1963. Even at this early point in its history, the company produces cables to customer requirements. In 1965, the company headquarters moves from the couple's house in Vaihingen to its current location just a few kilometres away on Schulze-Delitzsch-Strasse.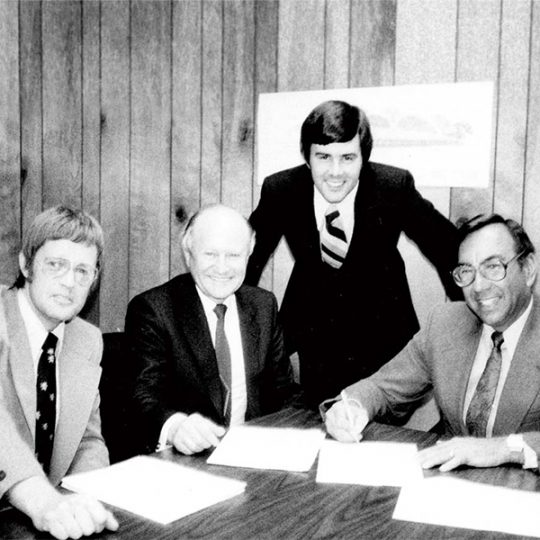 Lapp goes international
The Lapps found Ölflex Inc. in the USA, the company's first international subsidiary. Back then, this was an unusual step for such family-run businesses. But their courage is rewarded with success, as American customers appreciate the customer orientation and excellent service.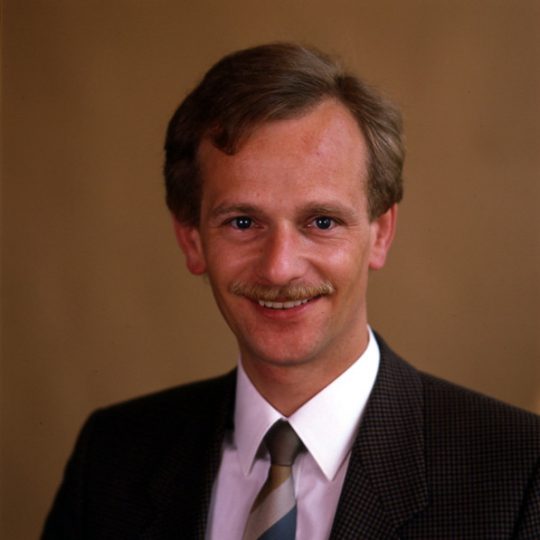 The second generation
Siegbert Lapp, the son of the founder, sets up S. Glaskabel GmbH. Known today as Lapp Systems GmbH, it offers customised connection systems.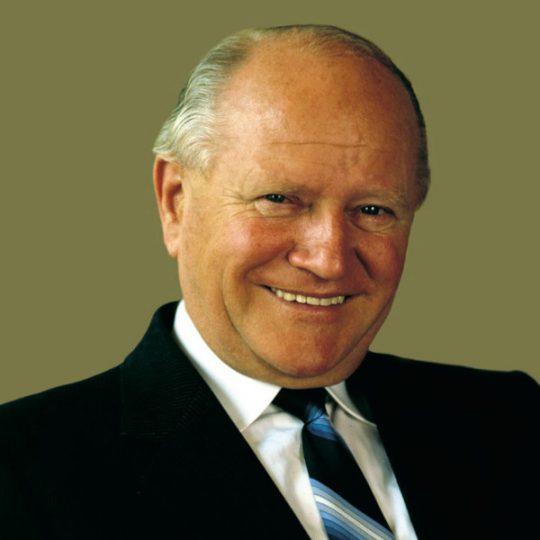 A new era
The death of Oskar Lapp marks the end of an era and the start of another. Together with her sons Andreas and Siegbert Lapp, Ursula Ida Lapp continues to run the business in the spirit of its founder.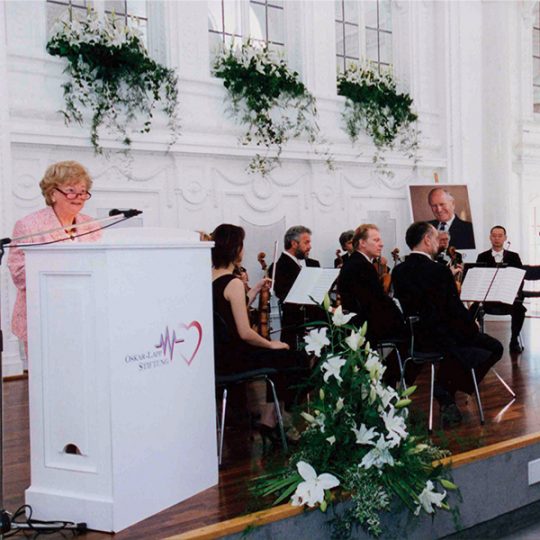 The Oskar Lapp Foundation
The Oskar Lapp Foundation is set up to honour the memory of the company founder. It is dedicated to research into heart disease. The Oskar Lapp Research Prize supports young scientists.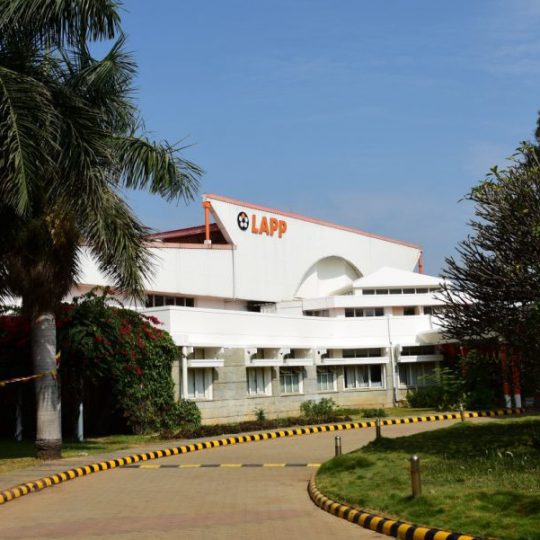 Becoming a global player
The number of international subsidiaries continues to grow. The group is now represented in the main markets in Asia, Europe and America. The LAPP Group employs 2,500 people in 50 businesses and has over 100 national partners around the world.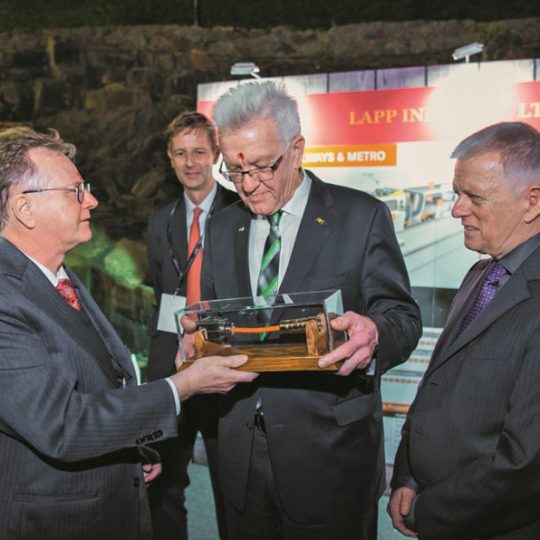 Andreas Lapp is named Honorary Consul
After years of personal and professional dedication, Andreas Lapp was appointed Honorary Consul of the Republic of India for Baden-Württemberg and Rhineland-Palatinate in 2001. "The country is close to my heart," says Andreas Lapp. The company set up an independent production facility in Bangalore already in 1996. Today, LAPP has 1,500 customers in India.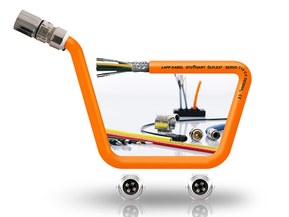 Going online
LAPP becomes one of the first companies in the connection technology sector to offer its customers an online store. The print catalogue continues to be published to this day, however.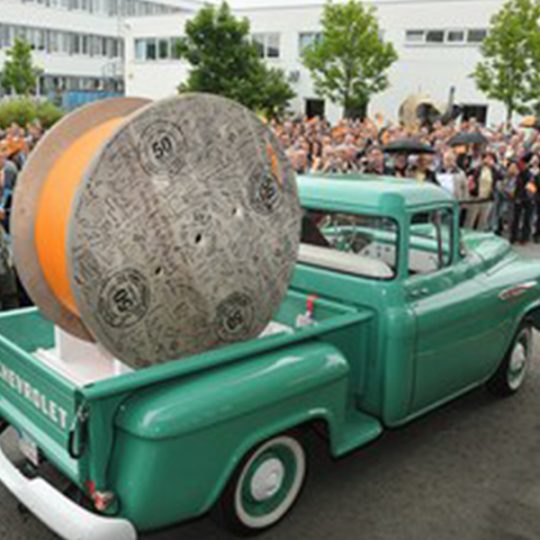 ÖLFLEX® World Tour
An ÖLFLEX® cable drum is sent around the world. On its journey, it visits eleven LAPP sites, travels over 51,000 km and is signed by over 2,500 people.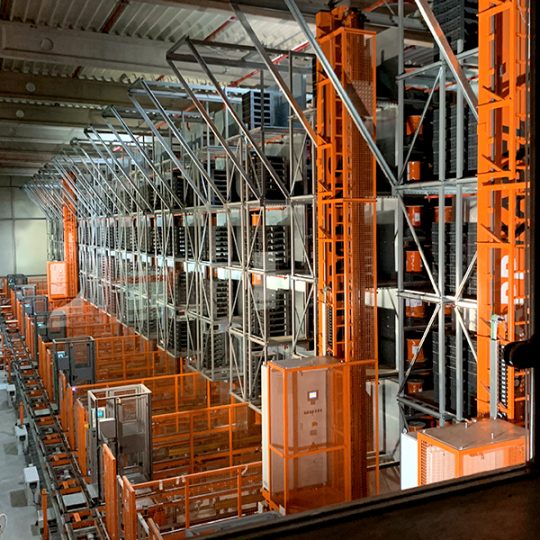 New logistics centre opens
LAPP sets new benchmarks with its new service and logistics centre in Ludwigsburg near Stuttgart. With over 320,000 square feet of floorspace, it stores up to 90,000 cable drums that can be loaded onto trucks via 30 ramps. The warehouse is fully automated and customers in Germany receive their goods within 24 hours.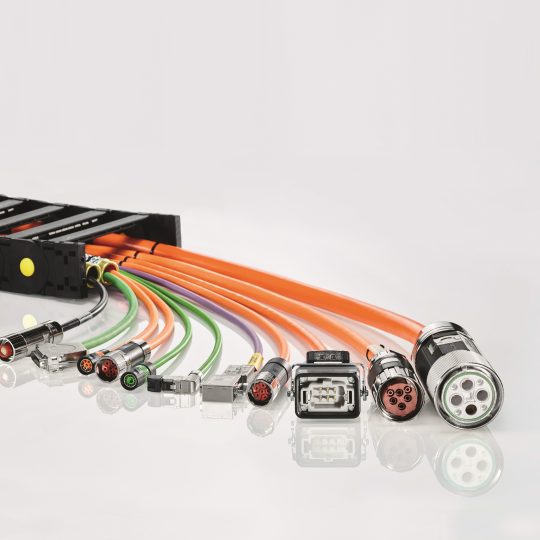 From components to systems
LAPP increasingly offers system solutions, including pre-assembled servo cables and power chains. This range of products is bundled under the new name ÖLFLEX® CONNECT.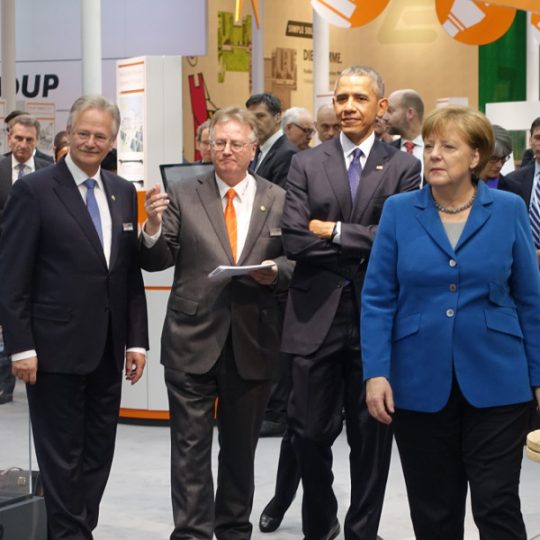 Distinguished guest at the Hannover Fair
In 2016, then-US President Barack Obama visited LAPP's booth together with German Chancellor Angela Merkel to find out about all our product highlights and innovations. The president was impressed: "LAPP is a successful role model, even for companies in the USA."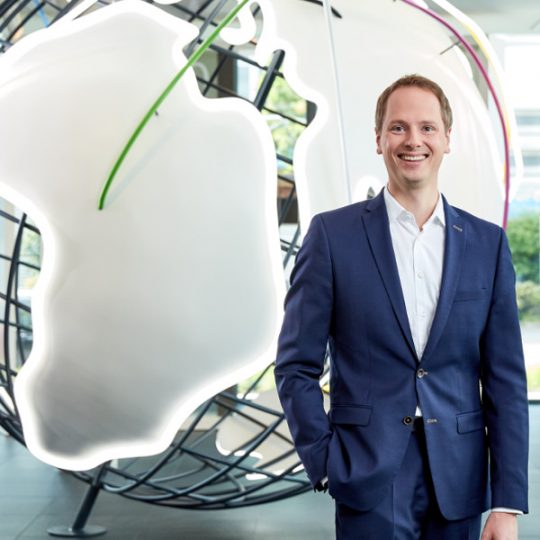 The third generation
Matthias Lapp assumes responsibility for the businesses in Europe, South America, Africa and the Middle East. The baton is therefore handed over to the third generation of the Lapp family.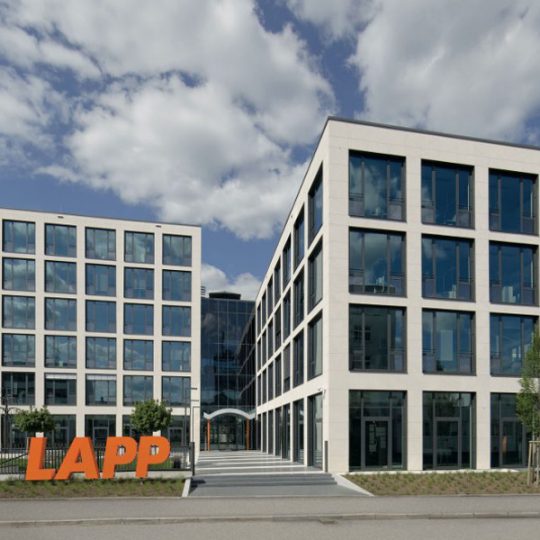 European headquarters
More responsive, versatile, and communicative – LAPP opens its doors to the future with its new European headquarters. The recently constructed building at the company headquarters in Stuttgart breaks new ground with its office concept. The work environment is now based on the open-plan approach. Rather than having separate rooms with locked offices and restricted access, everything is out in the open at the new European headquarters. Open for more communication, collaboration, knowledge exchange and creativity. Additionally, team zones, think tanks, lounges and project zones were integrated in many different locations.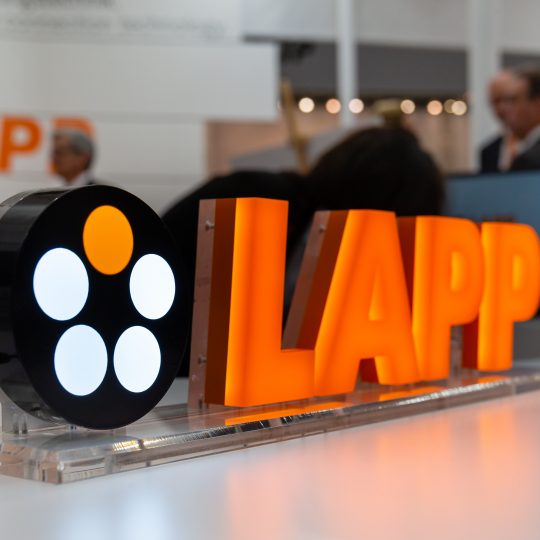 A new name
The company is gaining a reputation as a systems supplier with seamless international service, having long ceased to be solely a cable producer. To match this, the company renames itself as simply LAPP. The new name is used around the world for all group companies.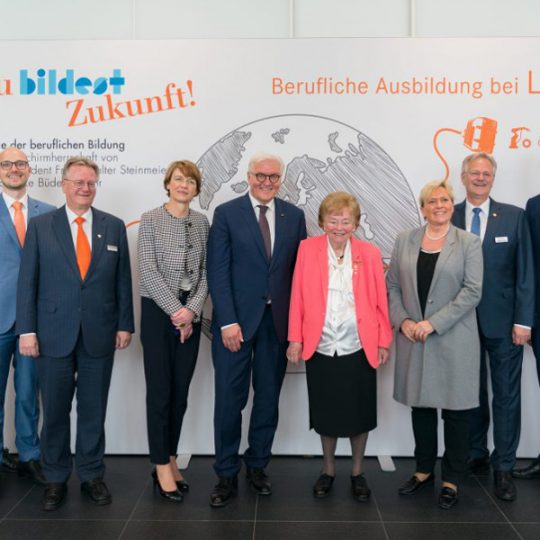 Federal President Steinmeier at LAPP
A prominent visitor dropped by LAPP: In 2018, Federal President Frank-Walter Steinmeier and his wife Elke Büdenbender visited LAPP to learn about the implementation and challenges of in-house training. This event was inspired by the theme week of professional training, for which the couple served as patrons. They paid visits to numerous facilities across Germany in this context.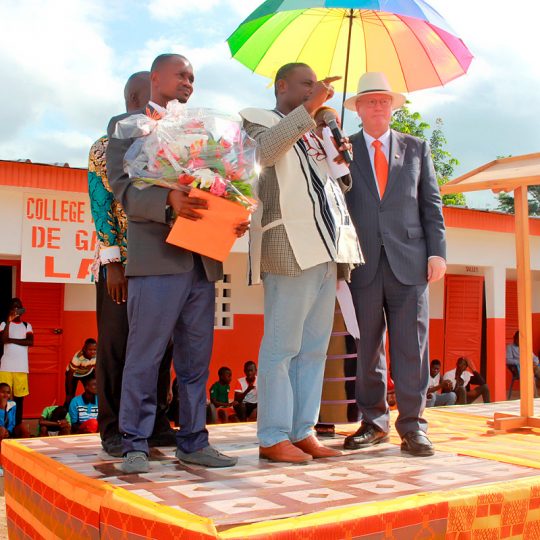 A matter of the heart: the Collège Andreas Lapp
Last autumn, the "Collège Andreas Lapp" was officially opened in Galebre, Ivory Coast. The initiative to establish the school goes back to Désiré Kope, a long-time LAPP employee who works at the LAPP Logistics and Service Centre in Ludwigsburg. For many years, he saved up to start a school in his home country in Ivory Coast. Thanks to the ongoing financial support of Andreas Lapp, he was able to make his dream a reality.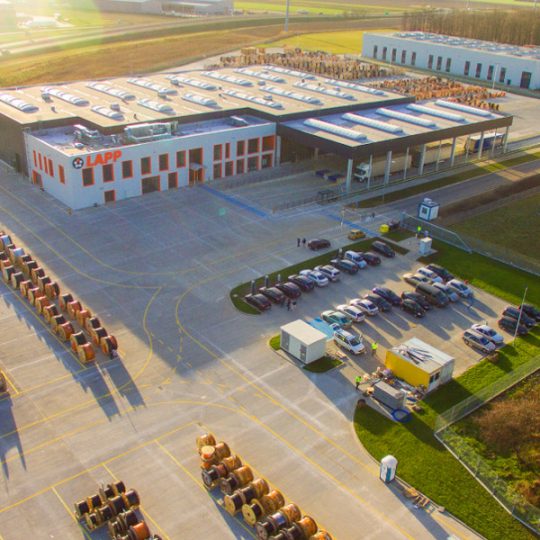 New logistics centre in Poland
In early November, the new LAPP logistics centre for infrastructure pipelines in Poland near Wrocław started operation. Now, customers from the construction industry, the energy sector and plant construction can be served faster and better than ever. The logistics centre allows LAPP to provide more volume at short notice and to respond even more efficiently to individual customer requirements. Furthermore, the new warehouse will help other locations to reduce their loads by using large drums to haul away their products.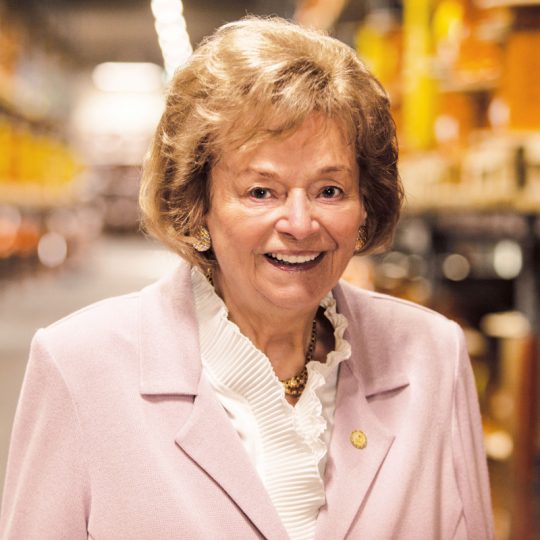 Ursula Ida Lapp turns 90 – we salute her life's work
With courage, foresight and a remarkable amount of will power, Ursula Ida Lapp transformed our company into the world market leader for integrated connection systems. This year, we are not only celebrating "60 years of Lapp – 60 years of the future", but especially the 90th birthday of our company founder. She has received many awards for her achievements as an entrepreneur, as well as for her charitable work, including the Federal Cross of Merit. From the bottom of our hearts, we wish her a happy birthday!
Connect with us
You want to make your future project a reality and are looking for a reliable partner at your side ? Get in touch with us. We would be pleased to advise you personally and put together a customized solution for you. You have a specific topic you'd like to talk with us about, requests or suggestions? Let us know! We'd be delighted to hear from you.