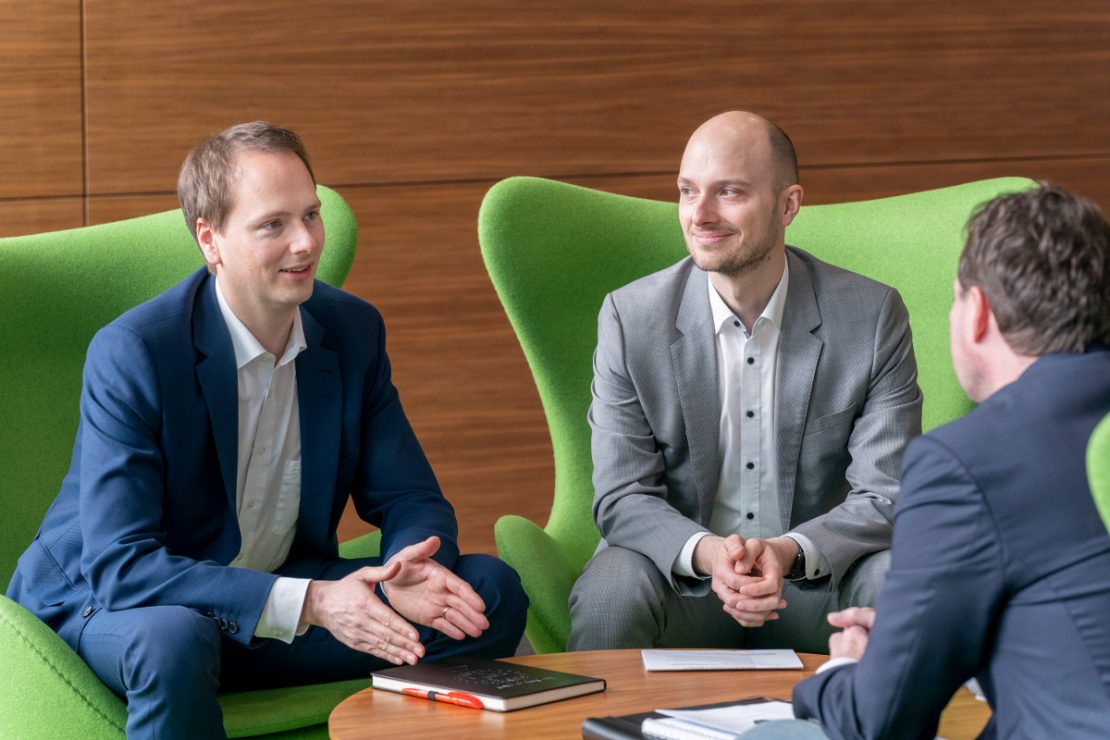 Matthias Lapp, we'd like to find out whether LAPP is fit for the future. Do you still like to bike to the European headquarters in Vaihingen?
Matthias Lapp: I do, if time permits. But sometimes I have commitments in the evening and don't go straight home. Then, it's not possible.
So you're in good shape?
Matthias:  Yeah, I feel pretty good.
Alexander Lapp, are you able to keep up with your brother?
Alexander Lapp: Not quite. Of the two of us, he's always been the more athletic. But I also ride my bike in summer or we play tennis or squash together.
And who wins?
Matthias: Mostly I do.
Alexander: I occasionally manage to win when we play squash.
You've been with the company now for several years. What has changed since you joined?
Matthias: There have been a lot of big changes. Ten years ago, I wanted to change a lot of things quickly. But some things take time.
Alexander: That's the way it is with young Turks like us. Our aim is clear: We are committed to sustainable success and want to continue to build on it.
In what specific areas did you have to accept that some things simply take time?
Matthias: Ten years ago, we performed well as a company. Both our structure and strategy were geared towards growth. We wondered whether we still had the right values to do this. That is, the ones we defined 20 years ago. What do we mean by family? What do we understand by innovation, by being customer- and success-oriented? We've reviewed, updated and modernized our values. We need long-term goals and analyses that we can stick to. And we have to have staying power. Stamina. Or – if necessary – to stop at the right time.
What are the values that characterize the LAPP family business?
Alexander: We view ourselves as a family business and a family of entrepreneurs. We embrace our values not because it is a tradition, but because we truly believe in them. And this is what we build on.
Matthias: To be a family business is not a value. To be a family is. This means the family owners are involved in the company. We are one-hundred percent a family business and will remain so. Because we play an active role in the company. We're also grounded. We are a medium-sized Swabian company that does not have to make decisions according to the stock exchange. When we discuss decisions within the family, it is not about how to increase dividends, but how to achieve sustainable success so that we retain significant value for the next generation of the family. The basis of our decision-making is therefore very different from that of many other companies.
Alexander: We take responsibility. We are a trustworthy partner and employer for customers, suppliers and employees. We are a kind of custodian for the next generation of the family. Our values therefore have not changed with us; we, too, are proud to carry them into the future.
How do you bring your employees into the future?
Matthias: Our employees are a key to our success. We are the Lapp family and they are the LAPP family. There is a strong sense of belonging in our local companies. And now it is important, even internationally, to be an extended family of different cultures and ways of thinking. A uniform logo was a first step in this direction. But such a cultural change takes time.
Alexander: We want to encourage our employees to think globally. There are a lot of great ideas in the wider LAPP organization. That's why we're creating a culture that allows global projects to be launched at any LAPP company, so that oversight does not always have to be in Stuttgart.
Did this insight come from your time abroad?
Alexander: This is my sixth year at LAPP. Getting started Singapore was essential for learning about the company from a different perspective. Moving was one of my best decisions.
Matthias: Do you mean to Singapore or the decision to come back?
Alexander: A mixture of both. The time there was special. It was quite an Asian experience – life moves much faster and is more digital. At the end of the day, I was also an employee who had to learn about the processes there.
Was this experience one of the reasons why LAPP, unlike other family-owned companies, has managed the succession process so well?
Matthias: We'll have to see. We'll know in ten or twenty years' time whether we are doing things better and are successful. We are just at the beginning of the transition. 
The fact that you're sitting here is a clear signal that you've been entrusted with this responsibility.
Matthias: Yes, and we are aware of the trust.
Alexander: When LAPP transitioned to the second generation, it had a completely different size. Today, we have more employees, the organization is more complex, there are many established processes. Today not everything falls on the shoulders of family members.
Is it possible to be prepared for such a task?
Alexander: We were actually introduced to the company at a very young age. That helps us today. As children, we regularly attended events such as the Christmas party or anniversary celebrations. The company plays an important role in our grandmother's life. She shared that with us.
So, has the way forward always been mapped out?
Alexander: Yes and no. The desire was there. It was never a obligation, it was always an opportunity.
Your predecessors have a pretty good track record. Are you afraid of making any mistakes?
Matthias: We have come to the realization that we have to make sustainable decisions. More than half of the decisions made by our father and uncle were correct. Otherwise, LAPP wouldn't be where we are today. If we also manage to do this, things will continue to go well. Without courage and a willingness to take risks, however, they won't. Even wrong decisions can turn out to be positive, if you learn from your mistakes.
Alexander: Of course, the family places expectations on us. But we always try to keep the roles separate. When we meet in private, we speak quite differently than within the company.
Is it possible to have a birthday party without talking about the company?
Alexander: We try, but we don't always succeed. Whenever there's a pressing issue, we take the opportunity to have everyone around the table…
Matthias: … and have the minutes passed around for signing. You just have to make sure you don't get coffee stains on it.
Have you also discussed on these occasions why the word "cable" no longer appears in the mission statement?
Alexander: There's a good reason why we have decided on "reliably connecting the world". We are not a cable manufacturer. Or a cable retailer. We want to satisfy our customers. Our grandparent's generation started out as cable distributor. Our parents got into production, expanded the portfolio and increased the vertical integration. We intend to continue on the path we have already embarked on to become a comprehensive solution provider in the field of connection technology.
Matthias: We have an innovative approach and want to offer more services. Why shouldn't we help to plan our customers' warehouses? We'll be moving away from pure products to financial services or perhaps even software solutions. In the area of logistics, we have created a department that only deals with new innovative logistics products and services.
Alexander: To do this, we need entrepreneurial and innovative thinking not only in product development, but everywhere, for instance even in sales or human resources.
Is digitalization changing the corporate culture at LAPP?
Matthias: Yes, otherwise we wouldn't be talking about cultural change. What happens if we keep growing like this? Will we still exist in ten years from now if we don't undergo a cultural change? Things are quite different today. Whenever I'm sitting in a meeting, I hear a lot of strong opinions from colleagues. Honest feedback is important. Even when you are the boss, you have to admit to mistakes. We lead by example.
Where do you see LAPP in 20 years?
Alexander: One important goal is to ensure that LAPP remains independent and in family hands.
Matthias: We want to satisfy our customers. Because then they'll come back. Anyone in the market for electrotechnical components or solutions should think of LAPP first. Worldwide. In the future, even more people should benefit from our services and support.