At LAPP, driving innovation means understanding the customer, putting them at the center of our service offering, and continually finding new and better solutions to their needs. Here's one example: In the LAPP product catalog, we offer a cable that can withstand temperatures up to 100°C. If a customer needs precisely this cable, but for temperatures up to 125°C, LAPP engineers can develop a new plastic formula for the cable sheath. In other words, the customer gets their cable for higher temperatures. Innovation often means developing a solution for a specific customer problem. "LAPP positions itself as a customer solution expert, which differentiates us from competitors who only sell catalog products," says Georg Stawowy, Member of the Executive Board for Technology and Innovation.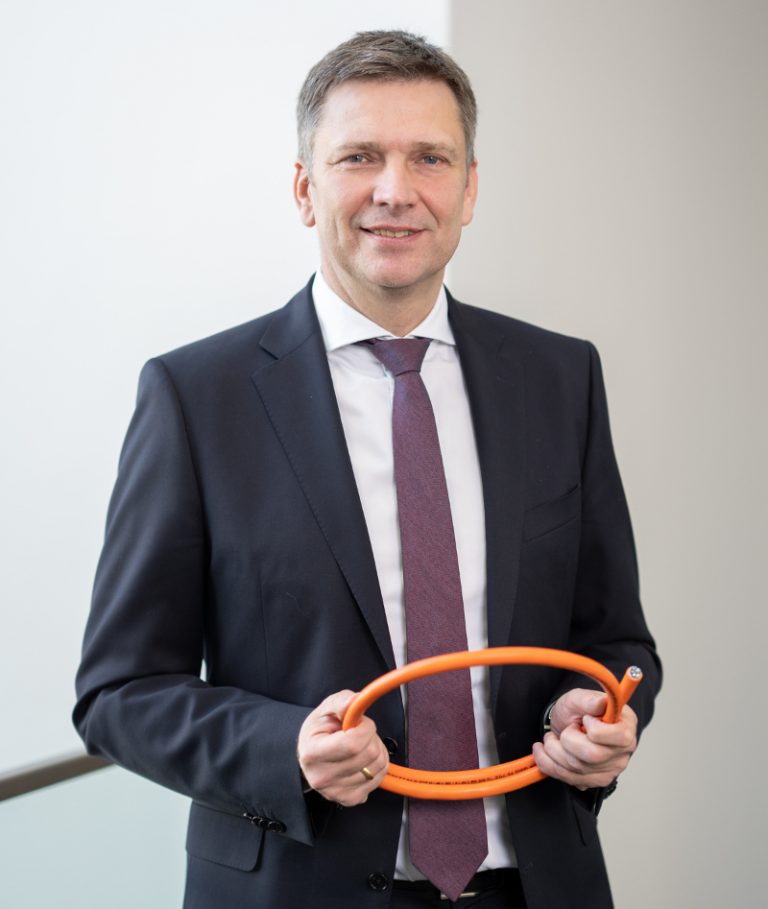 Identifying trends before the customer asks about them
But LAPP doesn't just wait for a customer to show up with problems. "Instead, we look at technological developments that first make new solutions possible," says Stawowy. For many years, this technology "push" was less of a focus for LAPP than the market "pull," i.e. customer demand for optimized products such as the more temperature-resistant cable. Nevertheless, part of our commitment to being a technology leader is to pick up on important technology trends even before customers ask for the corresponding solutions. Our direct interaction with customers is just one example of the cooperation that LAPP relies on in the innovation process. Professor Wilhelm Bauer, director of the Fraunhofer Institute for Industrial Engineering, firmly believes that, today, cooperation is a key to the innovative success of companies. As a member of LAPP's Technology Advisory Board, he knows that the world market leader in connection technology is a prime example of successful innovation management. "The next big thing is not going to be developed in an isolated research and development department of an individual company or for that matter in a garage," Bauer emphasizes. The ability to engage, collaborate and share knowledge promises to be more successful than previous strategies that reduced complexity by specializing in a narrow product segment. Bauer remarks that it is possible to learn from companies like Lego. With Lego Ideas, the Danish toy manufacturer operates an online platform where fans can present their own ideas or participate in challenges. The best ideas are found at the toy stores and the inventors get to share in the profits. This example shows that whoever cooperates can come up with better ideas and develop new business models before others do. Bauer praises LAPP for being well-positioned in this respect.
Those who cooperate can come up with new business models before others
Cooperation as a source of new ideas
In the end, it is our employees who are critical for the innovative success of the company. Stawowy insists that innovation must ultimately come from within: "We need external knowledge and ideas from the outside, an important component of which is partnerships and cooperation with other companies as well as with scientific institutes." Yet core competencies must be developed organically from within the organization. "Innovation concerns everyone and it must be driven by all of our employees, not just a small group of visionaries." So that employees can contribute and drive forward their own ideas, new products and services are not developed from the top down. Often, employees with different expertise will form project groups. The interdisciplinary cooperation is a breeding ground for new ideas. In addition, LAPP has short, unbureaucratic decision-making channels. "We operate over long distances like a start-up," explains Stawowy.
All together, the tapping into own potential, cooperation, a strong customer focus and the new innovation process puts the company in the best possible position to respond to a rapidly changing world. Indeed, the state of the art today may be a thing of the past tomorrow. And there's still one thing that LAPP simply can't do: predict the future.
A global player with a vision
To shape the future, you need to know your origins. LAPP started out from nothing to develop into the world market leader for integrated connection systems. Here's a historical overview of ten company milestones:
1956 The first business idea – a perfume bearing the LAPP name. While it didn't take the market by storm, it did demonstrate the family's brand mindset.
1957 Right from the start, the Lapps think in terms of customer solutions. Case in point: The idea for the ÖLFLEX® cable was born in 1957, although the company was not founded until 1959.
1959 Ursula Ida Lapp registers the new company as owner. Oskar Lapp is officially her employee, something that was as unconventional at the time as naming a company after a woman.
1963 The cable includes a plug: ÖLFLEX® is followed by the invention of CONTACT connectors (later EPIC®)
1976 Despite business relations in Austria or Switzerland, the Lapps establish their first foreign subsidiary not in Europe but in the USA: the company ÖLFLEX® Wire & Cable Inc. in New Jersey.
1978 Oskar Lapp applies for another patent with SKINTOP®. A plastic screw joint for simple cable fastening, which has been successful on the market ever since its inception.
1987 The death of Oskar Lapp ends an era – and starts a new one: In the spirit of the founder, Ursula Ida Lapp and her sons Andreas and Siegbert Lapp continue to run the company.
2000 The path to becoming a global player: LAPP now has offices in Dubai, South Africa, and Brazil and subsidiaries in Poland, Latvia, and Ukraine. Plus a worldwide logistics network – because fast delivery is only possible with close proximity.
2013 Growing and putting down roots. The construction of the new service and logistics center in Ludwigsburg and the new European headquarters in Stuttgart usher in a new chapter in the company's history.
In 2016, LAPP wins the TOP 100 AWARD and can count itself among the most innovative small and mid-size German companies.
2018 The company no longer offers only cables, but has firmly established itself as a system supplier with international service. To reflect this, the company has given itself a new name that is globally uniform for all parts of the company: LAPP.
12,000 euros is awarded annually with the Oskar Lapp Research Prize. It aims to motivate young physicians to come up with innovations in the field of cardiovascular research.
2018 LAPP wins the GERMAN INNOVATION AWARD IN GOLD in the transportation category with the Mode 2 charging system for electric and hybrid vehicles.
LAPP plans to generate 10% of its turnover with new products in 2020.