Nowadays, one speaks of "work-life balance" and "home office." No doubt these terms were entirely unfamiliar to Ursula Ida Lapp 60 years ago, but they were nonetheless part of her day-to-day life. In 1959, she registered the U.I. Lapp KG – in her own name and with her husband Oskar Lapp as employee. Until 1963, the family home in Vaihingen was both family and company headquarters. It was there that the mother-entrepreneur exemplified what concerns a lot of women today: striking the right balance between having kids and a career. It is hardly a surprise that Ursula Ida Lapp has always been strongly committed to her employees' work-life balance needs. Not only will the company be celebrating 60 years of LAPP this year, but above all the 90th birthday of the company's founder. And along with it, 60 years of being a successful female pioneer.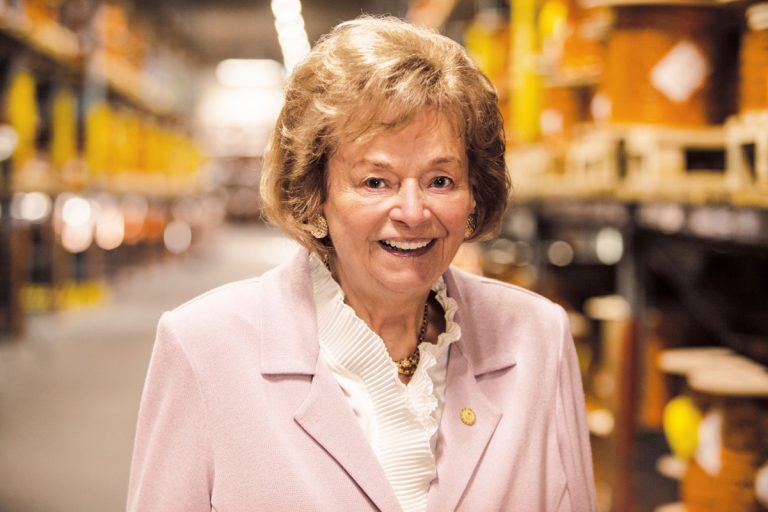 But let's go back to the beginning. As her mother died when she was ten years old, Ursula Ida Emmelmann had to take on responsibility in her home town of Benshausen (Thuringia) even as a child. She carved out her own path early on, completing an apprenticeship as an industrial clerk. It was almost as if she had suspected that one day she would use this knowledge as head of a company. In 1951 she married Oskar Lapp, who was ten years her senior. Both could no longer tolerate the repressive measures of the GDR, so Oskar Lapp first fled to the West on his own. Shortly thereafter, his wife followed him to Baden-Württemberg. She was very pregnant with Andreas Lapp, had a small suitcase in one hand and the then three-year-old Siegbert in the other.
The couple had to start their life from scratch in their new hometown – with no apartment, no furniture, and barely any clothes. Still, they had a dream and were determined to pursue it. By the end of the 1950s, Oskar Lapp finally developed ÖLFLEX®.  As the first industrially manufactured connection and control cable, it revolutionized connection technology. The Lapps founded their company in 1959. Because her husband was still otherwise employed, Ursula Ida Lapp entered herself in the commercial register as the founder of the company. In the years that followed, Oskar Lapp took responsibility for outside sales, while Ursula Ida Lapp took care at home of the bookkeeping, orders, advertising and the children. Often she would go to the freight station with a handcart to pick up outsourced cables and then dispatch them. Ursula Ida Lapp held her own in the male-dominated technical world. Whenever she wasn't satisfied with the quality of the delivered ÖLFLEX® , she would travel as far as Wuppertal to complain to the manufacturer. And she always managed to get what she wanted.
In 1963 – the year after their third son Volker was born – the Lapps opened their first factory. In 1965, the company moved from the family home to the current headquarters. Over the next few years, LAPP grew to become the world market leader. Oskar Lapp's death in 1987 was a major blow to the company, but above all to the family. Despite the tremendous loss, Ursula Ida Lapp realized that their life's work needed to continue. Together with her sons Siegbert and Andreas, she took over the reins of the company. Towards the end of the 1990s, she handed over day-to-day operations to both of them and became head of the supervisory board. She has since also stepped down from this position, though she remains honorary chairwoman and is still involved in the company.
Her grandchildren Matthias and Alexander Lapp have also already taken on responsibility. In doing so, they're also fulfilling Ursula Ida Lapp's life-long wish: that the company stay in family hands. The company is her life – it's her family. No wonder, then, that she also maintains her family sensibility as an entrepreneur. She knows better than anyone how important it is to balance work and family life. That's why she supports employees in all phases of their life – for instance, with flexible working hours or help in finding daycare and nursing services.
Even outside of the company, social and cultural engagement has always been close to Ursula Ida Lapp's heart. She supports institutions in and around Stuttgart, but also in India. In 1992, she and her sons launched the Oskar Lapp Foundation in honor of her husband, who died of a heart attack. The foundation supports scientists in cardiovascular research. For her accomplishments as an entrepreneur, as well as for her charitable work, Ursula Ida Lapp has been awarded, among other things, the Federal Cross of Merit and the Business Medal of the State of Baden-Württemberg.
ÖLFLEX® INSTEAD OF OPERA
During an interview on her 85th birthday, Ursula Ida Lapp explained that she almost became an opera singer. Music has been her passion since she was a child. As a young woman, she joined the choir of her hometown Benshausen. Soon, she was singing the leading roles in operettas like "Rose-Marie" or "Das Walzermädel von Wien" (The Waltzing Girls of Vienna). She captivated audiences with her singing – including Oskar Lapp, who first noticed the twenty-year-old at the Christmas performance in 1950. He then began to court her.
In lieu of a singing career, she embarked on a career as an entrepreneur alongside Oskar Lapp. The love of music stayed with her. The couple would often have visitors at their home in Vaihingen. On these lively evenings, Oskar Lapp assume the role of storyteller, while Ursula Ida Lapp enjoyed singing for her guests. Her appearances at company parties or family celebrations have continued to be a special highlight.
At 89 years of age, in 2019, she even serenaded her son Andreas Lapp in front of an audience for his birthday.
Click here to learn more about LAPP's company history.