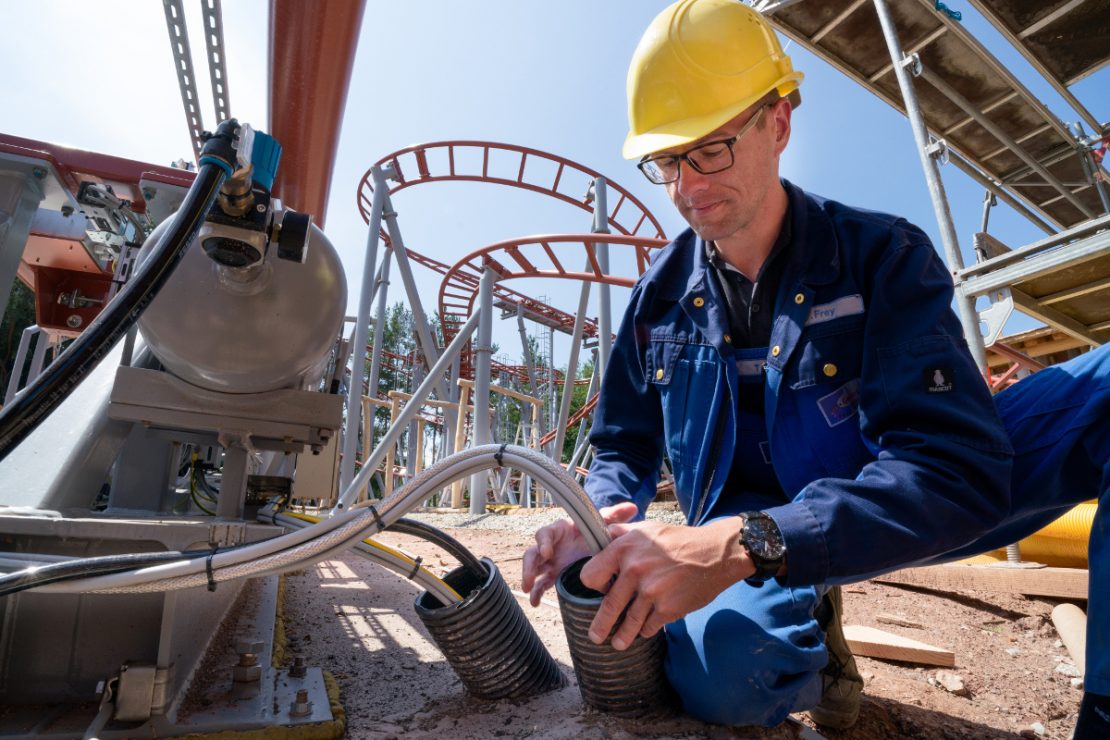 Whether in Europe, the USA, Asia, Africa or Australia – those who like to visit amusement parks are very likely to have encountered Gerstlauer without noticing it. For example, on a ride in the "Gold Rusher", the roller coaster in the zoo and Tatzmania zoo in Löffingen. The 100-strong company is a true hidden champion of international importance. Gerstlauer also implements ambitious and record-breaking customer wishes: In Japan there is a Gerstlauer roller coaster with the steepest descent in the world and a total distance of over 1000 metres. And in one of Germany's largest amusement parks there is one that is the first in the world to offer a free fall backwards.
Gerstlauer is currently building the world's first "green", i.e. particularly energy-efficient Ferris wheel. A recovery system for braking energy supplies an energy store for the electric drive, which noticeably improves the energy balance of the Ferris wheel. "This project is just as exciting for us as a spectacular roller coaster," reports Erwin Haider, head of the electrical department. "Every ride keeps us busy for several months. This ranges from computer simulations and construction in Münsterhausen to assembly and commissioning on site. And when you see that it's all set up, it fills you with pride every time. This work is really fun".
Thrills also have to be safe and reliable
There is only one thing about which the people of Münsterhausen don't have any fun at all: "We transport people and want to give them pleasure, so we don't compromise on reliability and safety," says Erwin Haider with a sudden, very serious look. "Our rides have been in use for 20 years or longer and must always function, seven days a week. Gerstlauer therefore places high demands on the quality of its suppliers. The extraordinary company does not award contracts to the cheapest supplier, but to the one on whom it can rely all along the line.
"That's why we mainly rely on local suppliers from southern Germany," says Erwin Haider. "Because of the high quality, but also in order to develop a close personal relationship due to the geographical proximity. This is important to us because it creates long-term partnerships in which both sides pay attention to consistency and reliability". This also applies to cabling. Gerstlauer has been relying on LAPP's broad product range for more than ten years for this purpose, and obtains everything from the control and servo cables to the data cables. Gerstlauer needs cables that cover all standards, can withstand all weather conditions and ensure long-term functionality for the rides used internationally. For example, the VDE-registered oil-resistant PVC control cable ÖLFLEX® CLASSIC 110 and the shielded servo cable ÖLFLEX® SERVO FD 796 CP from LAPP for highly dynamic use in energy chains play central roles in the cabling of the Gold Rusher in Tatzmania Park.
E-Shop solution for the requirements of special plant construction
Equally important: In special plant construction, as in the case of Gerstlauer, there is virtually no routine in purchasing. Every project has its own requirements, to which LAPP as a supplier must respond quickly and reliably. This is why Gerstlauer orders via the LAPP e-Shop. "Gerstlauer is one of our most important customers in the digital environment," says  the Digital Sales Manager at LAPP. "For this reason, it was a matter of course that we adapt our processes entirely to the specific needs of our customers.
Using a smartphone, employees from Gerstlauer can access the e-shop's mobile website from anywhere – even from the construction site, if there is a change of plans at short notice, and it becomes clear that more or different cables are needed. "We rarely know 100 percent of what is coming our way on the construction site," explains Erwin Haider. "It is important that we can react quickly and flexibly and also have partners who support us as well. To order a cable, it is enough to scan in a barcode. The LAPP e-Shop displays the product and its availability immediately and without confusion. LAPP pre-numbers the cable drums ordered for its customers and delivers them to any desired location, usually the next day, even at weekends. This saves Gerstlauer from having to take a detour via the central purchasing department. "This service package saves the customer internal resources and allows him to concentrate entirely on his rides," reports the Digital Sales Manager at LAPP.
Customer-specific processes are the future
"My field service colleague Hermann Robl also advises Gerstlauer on the optimal solutions on site," continues the Digital Sales Manager. "In view of the modern digital distribution channel, the personal relationship is not neglected, quite the contrary. Erwin Haider emphasizes: "LAPP covers all our needs with a sensational delivery reliability and an order process that is optimal for us. That's exactly what we want from a supplier."The Digital Sales Manager at LAPP is also enthusiastic about the cooperation: "At Gerstlauer, our cables bring dreams to life that make people's hearts beat faster. And we notice that we completely satisfy our customers with our ordering and delivery process". The digital sales expert sees the future in such customer-specific solutions. For Gerstlauer, this is already the present with LAPP.
If you would like to find out what solutions we have to offer for your industry, do not hesitate to contact us.