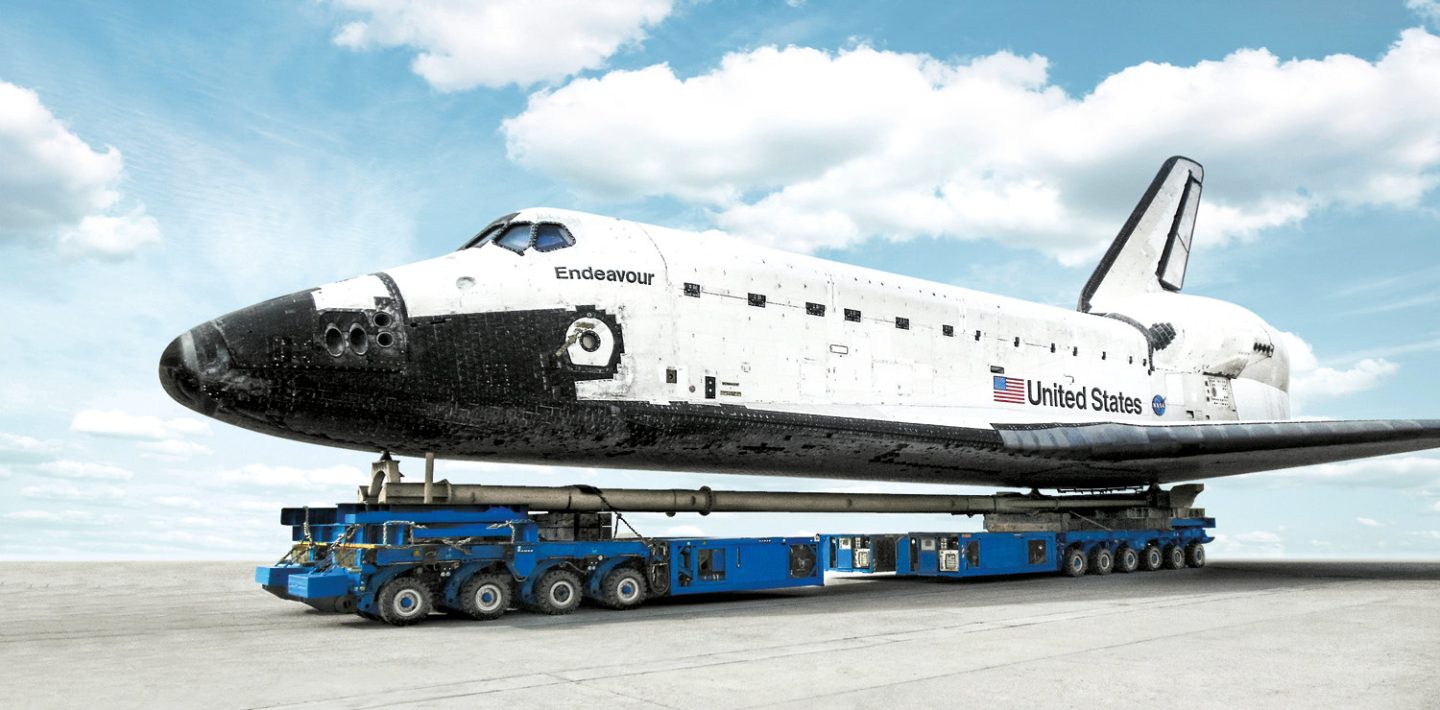 Even space shuttles have to retire at some point. In 2012, it was time for the American space shuttle Endeavour to do so. After 25 missions in orbit, it made its final trip to the California Science Center south of Los Angeles. The 68-tonne colossus with a width of 24 metres and a length of 38 metres had to be moved from Los Angeles Airport to its destination hangar – an almost 20-kilometre-long route that runs straight through the densely populated megacity. Since the shuttle couldn't drive itself and wasn't suitable for a normal truck, it needed a special transportation solution for heavy loads. This came from the Transporter Industry International Group (TII Group) from Baden-Württemberg.
The Heilbronn-based company specialises in the production of heavy-duty vehicles for global transport – and has over 150 years of experience in this field. The Swabian entrepreneurial family Otto Rettenmaier has united the brands TII SCHEUERLE and TII KAMAG in a strong alliance under the umbrella of TII. Whether for oil rigs, ships, aircraft, intralogistics, wind turbines or even space shuttles – the areas and locations of application are varied.

Modular world record-holder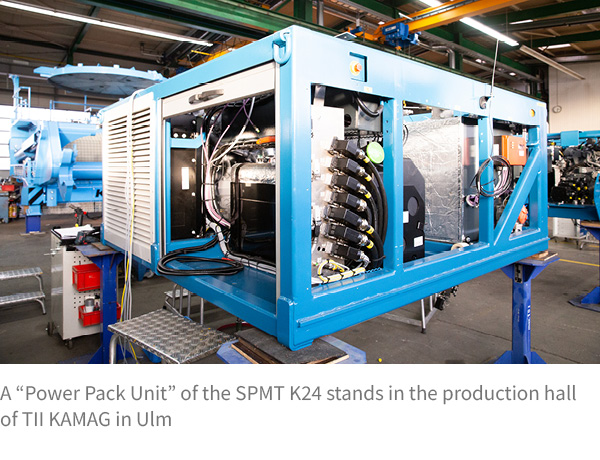 TII specialises in a very special vehicle type that was also used for the space shuttle in Los Angeles: the Self-Propelled Modular Transporter – or SCHEUERLE SPMT K24 for short. This is a remote-controlled, modular heavy-duty transporter that can be expanded to a vehicle group depending on the weight and size of its cargo. It can carry payloads of up to 248 tonnes but weighs only 24 tonnes itself. A "Power Pack Unit" as it is called, which is attached to the vehicle, contains the motor and control system of the SCHEUERLE SPMT K24. The super-flexible power cables from the TII Group have already broken a number of world records – for example while loading an oil tanker onto a ship for scrapping in November 2022. The vehicles moved a total of 20,300 tonnes. This was the equivalent of a herd of around 3,383 African male elephants, or almost 4.5 times the weight of the Stuttgart TV tower.
The American space shuttle Endeavour was also loaded on a SPMT K24 combination and transported to its destination in Los Angeles at a fast pace – through a dense urban landscape, past department stores, residential settlements, TV cameras and an enthusiastic street audience.
From the glowing hot sun to the bleak cold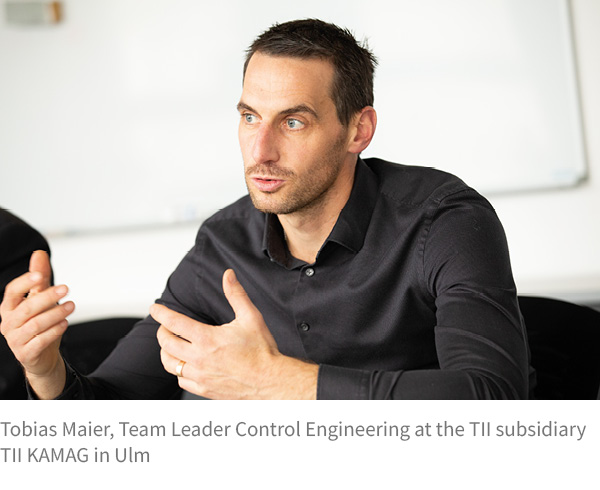 "It's not always as sunny as in California", explains Tobias Maier, Team Leader Control Engineering at TII subsidiary TII KAMAG in Ulm, adding: "Our customers worldwide use the SPMT K24. After such a transport in Los Angeles, a vehicle might head to Siberia for half a year – in bitter cold temperatures of minus 25° Celsius, or to the desert on the Arabian Peninsula, in dust and heat." These extremes must also be withstood by the vehicles' connection technology, which transmits the electricity from the engine and the data from the integrated on-board computer to the axes. Two specific challenges arise here. Firstly, cables cannot simply be installed on the outside of the vehicles. This is because they will be directly exposed to environmental influences such as UV radiation or extreme temperatures. However, space inside the chassis is limited. Secondly, the self-driving module transporters are only coupled together on site as required – and so is the connection technology. This is also done manually by hand, no matter what the weather. "If there are too many connector points and individual cables, this can quickly become a laborious act," explains Tobias Maier. "During vehicle planning at the time, it became clear to us that we had to minimise the number of cables on the vehicles. On the one hand, coupling of cables on site was to be convenient for human beings, while on the other hand, we wanted to be able to run all the cables through the protected interior of the vehicle frame". The idea was for all connection technology to ideally fit into just two compact cables – one supply cable and one control and data cable.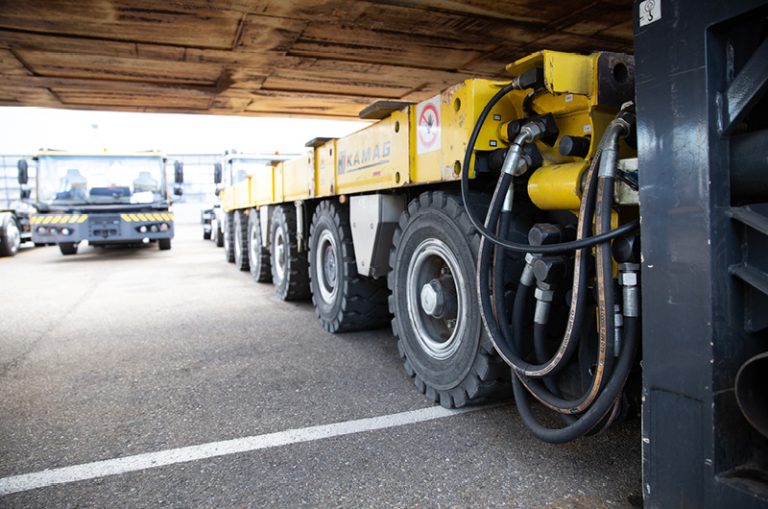 The solution came from Stuttgart
But this required a custom production. Finding a suitable supplier for this was not so easy either. Initially, several providers came into consideration. However, LAPP proved the most convincing. The global market leader for integrated cable and connection technology based in Stuttgart has already designed two cables according to TII specifications – a power line and a data line. "Both cables combine several cable types in one, which means that they are hybrid cables," explains Joachim Hentschel, Account Manager at LAPP. "The power line initially supplies the vehicle with electricity so that it can get rolling," he adds. In turn, the data line is the vehicle's data pool. The data bus cable conducts control and regulation signals from the "Power Pack Unit" to the wheels, "so that, for example, each individual axis can be adjusted to the correct steering angle." Both the power and data lines also contain serial control cables.
Such project is no walk in the park. The initial draft of the Data Line failed to achieve the necessary data flow. LAPP is well known and highly valued by customers for its innovative work and persistent search for solutions. "The problem was the impedance, i.e. the resistance in the cable," explains Joachim Hentschel. "We had to adjust the core distribution in the cable." This was then quickly implemented. The customer is satisfied: "We are delighted to have a partner in LAPP who is clued up on our requirements and who has developed a solution. This commitment is commendable," explains Maier.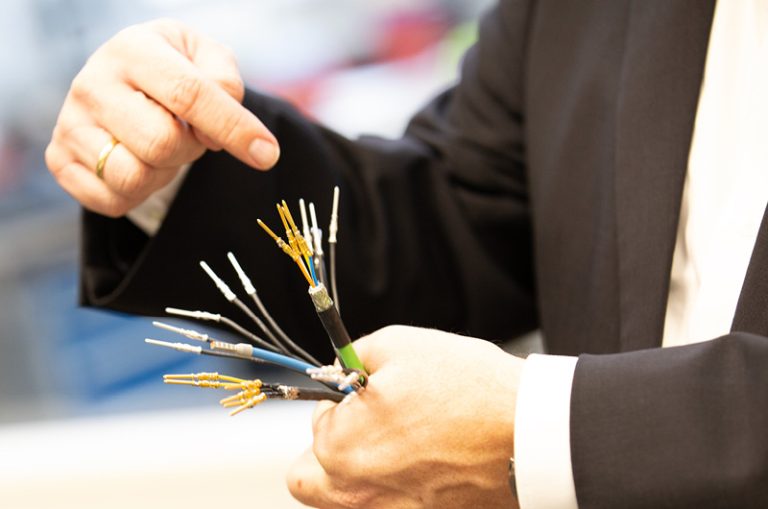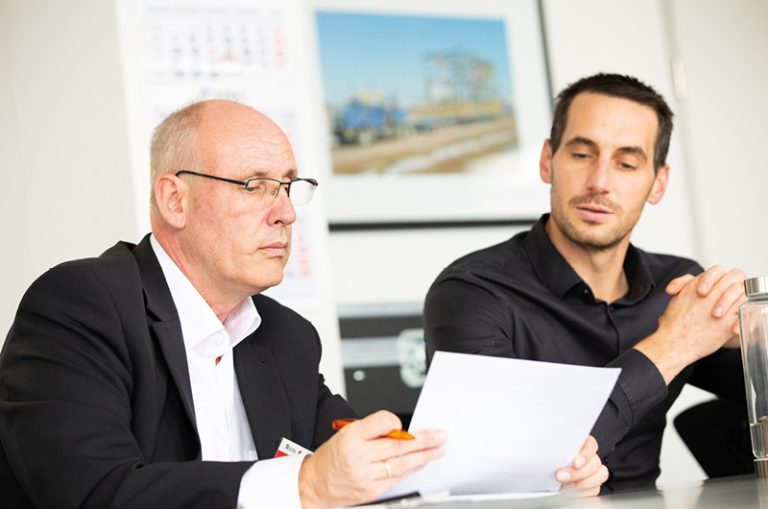 No standstills in the future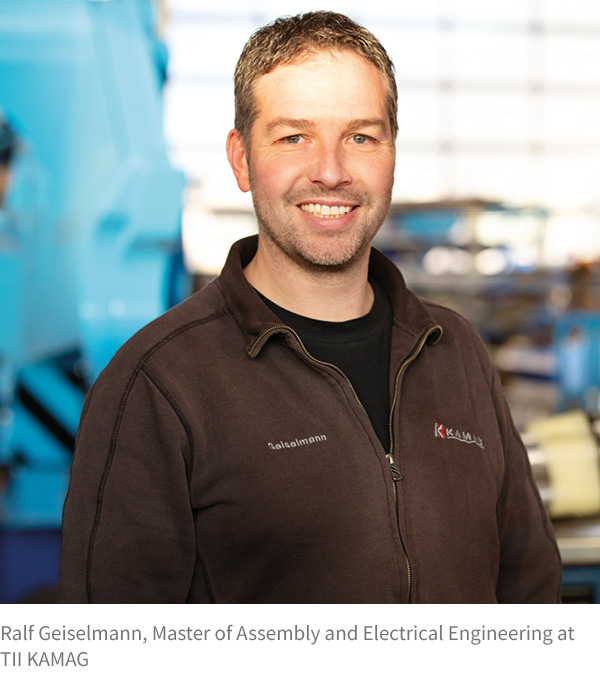 LAPP has been supplying the TII Group with its special cables for the SCHEURLE SPMT K24 since 2010. "We are extremely satisfied with the quality LAPP delivers," assures Ralf Geiselmann, Master of Assembly and Electrical Engineering at TII KAMAG, "and if anything's amiss, LAPP always takes care of it." The TII Group also purchases standard cables from LAPP, such as ÖLFLEX® CLASSIC. "I can configure and order them virtually online from LAPP," says team leader Maier, "but when it comes to custom-made products like these, we need on-site advice. Any time we call them, LAPP will come by," he smiles. Product requirements, such as those for special cables in the SPMT K24, are first discussed in person and then implemented.
Heavy duty drivers are grateful to the TII Group and LAPP if they only need to handle two coupling connectors during icy temperatures without having to unravel tangled cables. This not only avoids inconvenience, but also mistakes. And if the cables are protected from wear and tear by being placed inside the protected vehicle, they will also be resistant to failure. It's hard to imagine what it would mean if a modular transporter with over 10,000 tonnes of load suddenly came to a halt in the middle of the desert – every second becomes costly.
LAPP and the TII Group are looking to an exciting future, in which many more heavy loads will be moved using self-driving module conveyors and connection technology from Stuttgart. This will not only involve museum pieces with entertainment value – like the space shuttle in Los Angeles. Technical equipment such as wind turbines, which are important for our sustainable energy supply, must also get from the production site into the field. With the corresponding technology from Baden-Württemberg, this is no problem – even at minus 25° Celsius or during glaring heat.