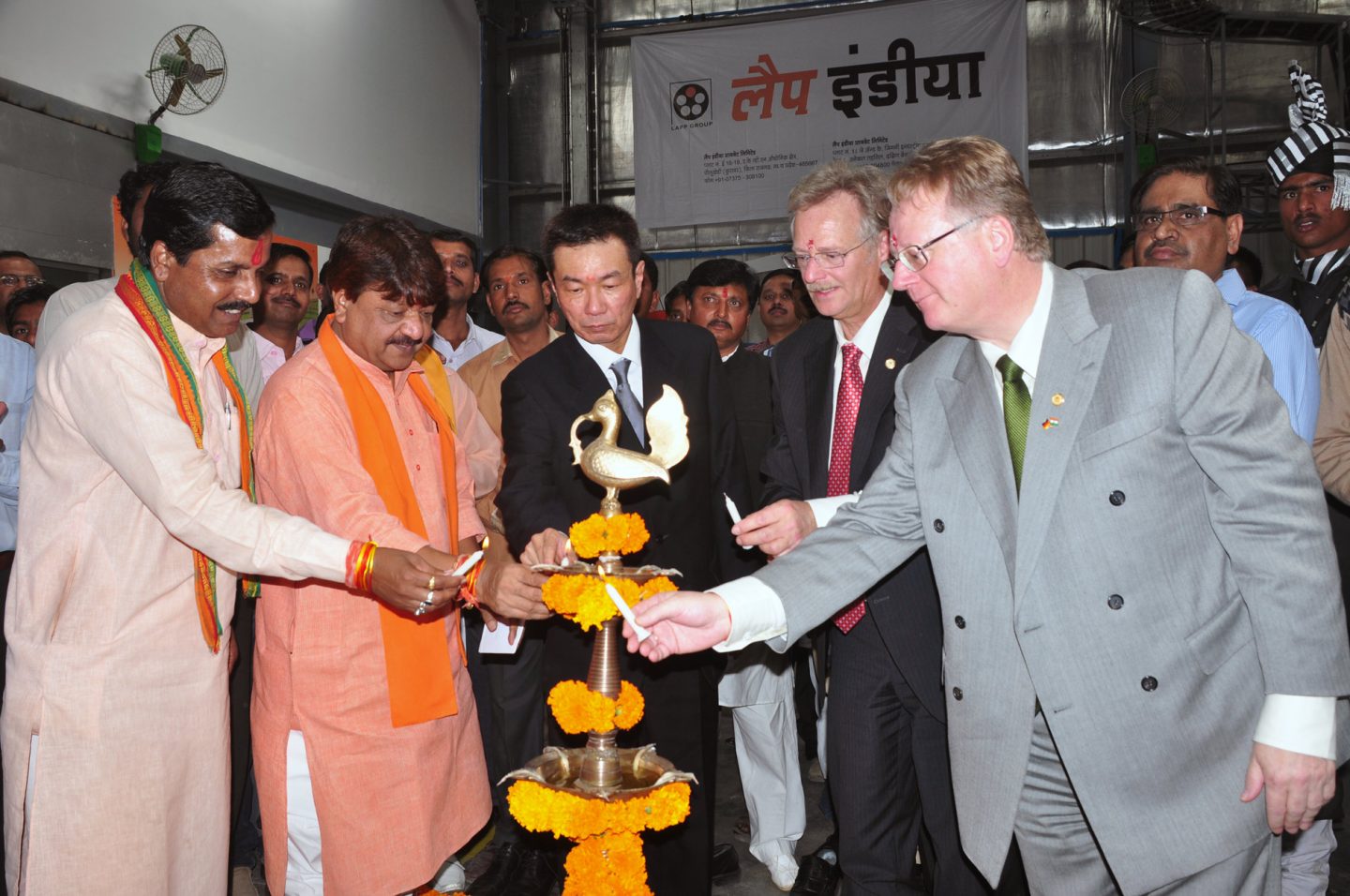 In 2021, the Indian economy grew by a sensational 8.7 percent. Since then, the once developing country has become the fifth largest economic power in the world. At the end of April 2023, India also overtook China, once the most populous country, with a population of around 1.425 billion. India's influence has also increased geopolitically, for example by taking over the presidency of the G20 in 2023. This impressive development is leading to a well-deserved new self-confidence and is increasingly bringing the country to the attention of Western companies as an attractive market and location.
LAPP has maintained close ties with India for several decades: as early as 1996, the world market leader for integrated solutions in the field of cable and connection technology set up a manufacturing site in Bangalore in southern India. Today, LAPP India is represented throughout the country – and is the second largest company within the LAPP Group. Several regional sales organizations in Delhi, Kolkata, Mumbai and Bangalore, as well as more than 20 smaller sales offices and a strong dealer network support the company's successful presence in the Indian market. Andreas Lapp played a decisive role in shaping LAPP's commitment to India during his time at the helm of the company. He has been India's honorary consul since 2000 – his experience makes him an exceptional expert on India.
A market full of opportunities
Whether it's infrastructure, renewable energies, transport, raw material extraction and utilization or manufacturing – the Indian economy is humming almost everywhere. Not only population growth, but also high levels of government investment are making a major contribution. And in all these sectors, as well as in India's booming healthcare industry, demand for connectivity solutions is rising: The Indian cable market is diagnosed to grow by more than 10% in 2023, which will also benefit LAPP, given its local presence.
From its now two sites – the second was established in Bhopal in 2012 and is now the third largest manufacturing facility of the LAPP Group – LAPP India now supplies 9,000 customers in the Asia-Pacific economic region, 90% of which are Indian customers. LAPP makes a key contribution to this for India-specific projects such as housing, technology parks, commercial and hospitals, metros and stations, and smart cities through, for example, ÖLFLEX® infrastructure cables, which are developed and manufactured in India and feature high quality, reliability and affordability. "In addition, we are of course also active in the industries in which we are at home all over the world – such as classic mechanical and plant engineering, the food industry or in renewable energies," says Andreas Lapp.
LAPP's commitment is beneficial for both sides: As India's honorary consul, Andreas Lapp founded the Indian Business Center Stuttgart (IBC), which helps Indian companies to settle in Baden-Württemberg, among other things. In addition, he regularly organizes events where decision-makers from India and Germany can exchange ideas. This is how long-term, deep relationships are formed.
Success in India: do's and don'ts
However, German companies that want to do business in India should keep a few things in mind, Andreas Lapp knows: "As always in the world, you have to get to know the people and take your time – this is especially true for India. Coming to India and expecting a factory to go up in a year doesn't work. It is a democracy. It's not like China, where land is bulldozed and people are simply relocated when a big investor comes. It may take time, but you usually get all the permits."
It's important in India as a local entrepreneur to talk face-to-face with authorities, customers and suppliers. One must always keep the diversity of the country in mind: "There are a lot of interesting things to learn about this country, the culture and customs. India is a multi-ethnic country with many languages, like Europe. You can't do something in a state in southern India and expect it to work the same way in northern India. But it's no different in Europe. You have a different communication culture in Scandinavia than in Portugal."
Those who take this into account can, like LAPP, establish constructive and sustainable cooperation with India – and thereby position themselves in one of the world's most important future markets.