From what we are currently seeing, we at LAPP are learning important lessons that are only peripherally associated with digitalisation:
| | |
| --- | --- |
| 1. | Decentralisation enables us to respond flexibly and appropriately to unforeseeable events. |
| | |
| 2. | It is fair to say that the dynamic nature of global events has overrun all of us. In particular, the phase shift and the lack of knowledge and experience of how the progression of a pandemic actually plays out are playing an important role. Countries are being affected in different ways. It looks likely that China has already emerged from Coronavirus, while the number of cases in the USA is still extremely high. Case numbers are also rising again in many European countries. New shutdowns are being imposed and nobody really knows how many more "Coronavirus waves" we are facing and how bad the effects will be. Ultimately, all we can do is hope that we will be able to overcome the pandemic in the course of this year with the help of the vaccine. In this context, we have also learned what VUCA (volatility, uncertainty, complexity, ambiguity) is all about and we have found out what it means when predictions are simply impossible. This also applies to the economic effects, with different sectors affected to different degrees or with a time lag. At LAPP, we serve a wide range of customer groups in many countries, which makes us more resilient economically. But it calls for local freedom to apply the brakes or accelerate as required. We have had to save costs overall but this doesn't necessarily apply to every national subsidiary. |
| | |
| 3. | At LAPP, this dynamic has led to a sharp increase in the number of coordination meetings – all virtual of course. Communication with and between the board, departments and regions is essential in this kind of situation. |
| | |
| 4. | But we have noticed that events are happening so fast that central control simply would not work. Decentralisation is inherent to our system at LAPP. And it is now helping us to delegate decision-making responsibility to where the decisions have to be made. A crisis has to be overcome from the bottom up. Different countries have different methods and requirements for dealing with the crisis. And the local managing directors need the freedom of action to identify the best solution for their own businesses. At LAPP, we have been adopting an approach based on "central coordination and decentralised entrepreneurship" for many years – and we are definitely benefiting from it now. We know that where people are left to get on with things, they gain the motivation to use their own initiative to develop solutions based on local conditions that genuinely meet individual requirements. Whether it's the local managing director in Asia requesting mouth protection masks at an early stage, colleagues developing content for relevant webinars on their own initiative or employees with 3D printing experience thinking about producing visors to protect against viruses. |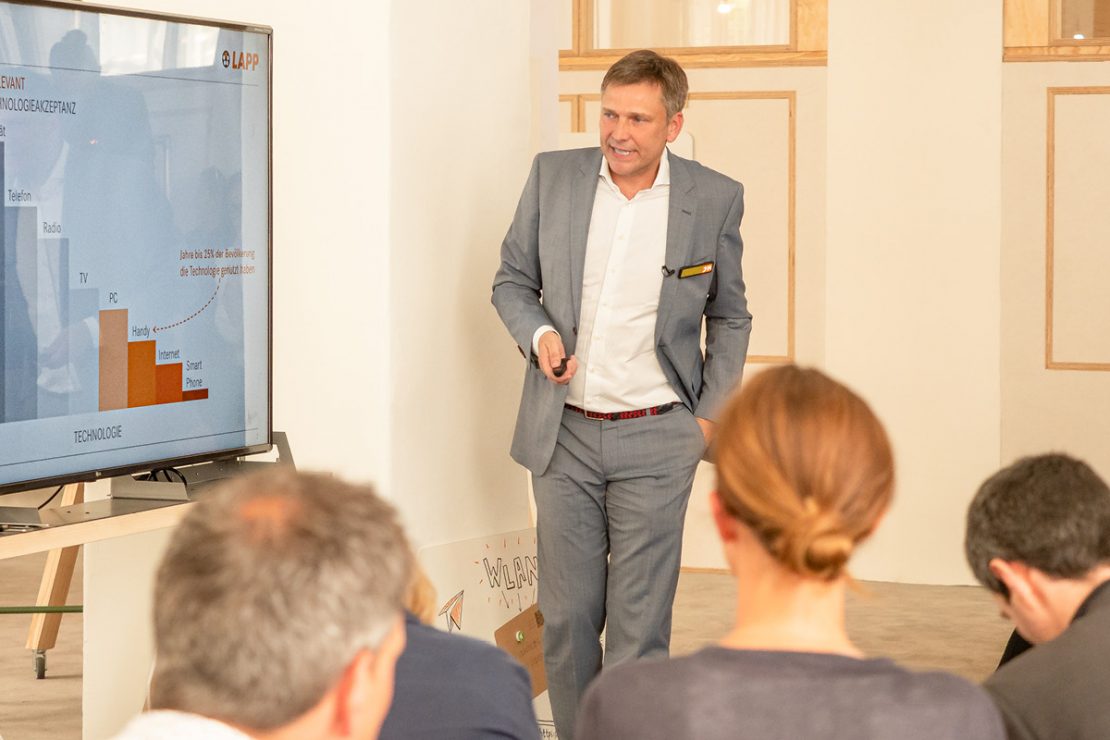 It's fantastic if you can control the supply chain globally using a uniform ERP system and continue to use the online platform to order goods. But it's the local business units and their dedicated employees that keep the wheels turning. A robust supply chain for the whole world needs smart management, and despite all the decentralisation of decision-making powers this requires stepping back from the national perspective and to start thinking in terms of the global group again. When it comes to autonomous driving, every car controls itself. But the algorithm is centralised. The Board and Managing Directors have to rethink the company's governance based on the experiences of the pandemic.
A shared set of values keeps a company stable
During a crisis, loyalty and cohesion become important stability factors. As regretful as the current situation may be, we are experiencing a coming together on an emotional level, regardless of where we live and what position we hold. As Martin Luther King said: "We may have all come on different ships, but we're in the same boat now." And each of us is responsible for keeping it on the right course. This requires a culture of openness and trust in and from employees that enables them to keep the whole in mind and to take action wherever they see an opportunity to do so. What we've been working on for years is paying off now: "ONE LAPP".
As part of the "One LAPP" project, we develop the conditions for open cooperation between people who share certain basic values in culture teams. And it's bearing fruit. The LAPP values are our compass, orienting us and giving us security especially in hazy and uncertain times. We can clearly see that some things cannot be digitalised. Digitalisation is the medium. But the potential comes from the individuals who use that medium with initiative and intelligence and put it to work in a human network.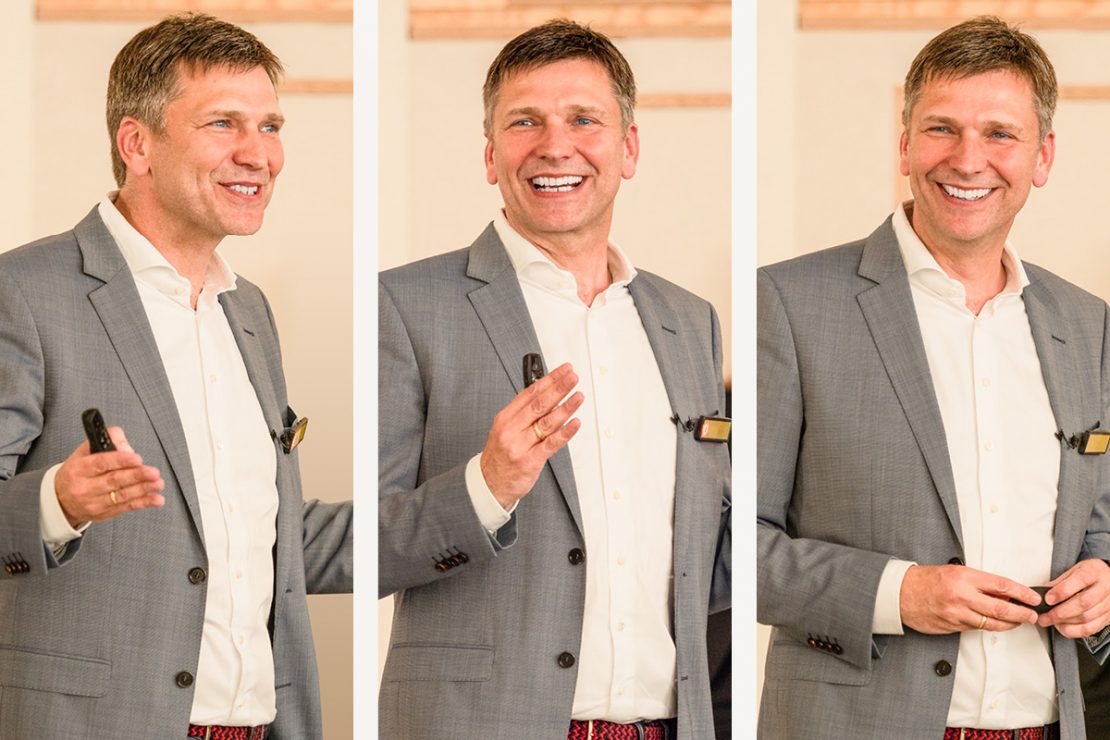 People are and remain the key success factor
The thing I'm most aware of currently is our basic need for personality. Many things can be automated, and there will also be artificial intelligence in the future. But it's people, with their emotions and ethics, that make a world dominated by more and more machines actually worth living in. We have recently discovered how well we are able to adjust to virtual cooperation. However, after a few months we can also see how demanding it is to satisfy the need for belonging through virtual cooperation. Our employees have clear expectations when it comes to being seen as an individual personality, understanding the impact of their own actions on the company and having a shared perspective (and optimism) regarding the near future. Management has had to change as a result of recent experiences and this learning process is continuing. To prevent misunderstandings: Of course digitalisation helps us with all the things I've been talking about – it brings people all over the world closer together. And it allows us to offer our customers better services, such as an online shop or additional digital services. The benefits of the digital world are clearly evident in the current crisis, enabling us to maintain our day-to-day business where it may well have come to a standstill in the past.
It is easy to think that this will ensure that companies will now focus more on digitalisation than they perhaps intended to before the crisis. The fact that customers can order cables and other products conveniently online from a smartphone is an incredible thing. But they can probably do that elsewhere too, or they soon will be able to. The way that we earn our customers' loyalty is through the fact that personal contact by dedicated employees enables us to understand our customers' concerns and to develop the most appropriate solutions and services for them. And the fact that we produce and supply where our customers are based – in 40 countries. Even in a fully digitalised world it will be this proximity, our delivery capability and our personal relationships with our customers that will make the crucial difference. Our claim "Reliably connecting the world" comprises technical solutions and human expertise.
From the perspective of a consumer or an employee in a company, digitalisation is comfortable, efficient and convenient. However, the lockdown and the associated restrictions on contact have also given us a taste of a more digitalised world, including the realisation that life in cities could change fundamentally. At LAPP, when it comes to digitalisation we have to ask ourselves what kind of world we want to live in.
Digitalisation is just a foundation for managing processes – personal contact with customers, partners and colleagues is and remains the crucial factor for the company's success. So anyone who is only talking about digitalisation is not seeing the full picture – it is just an essential foundation. Extending this foundation more quickly is a good thing. But what is much more important is what we are building on this foundation together. As a company and as a global society.