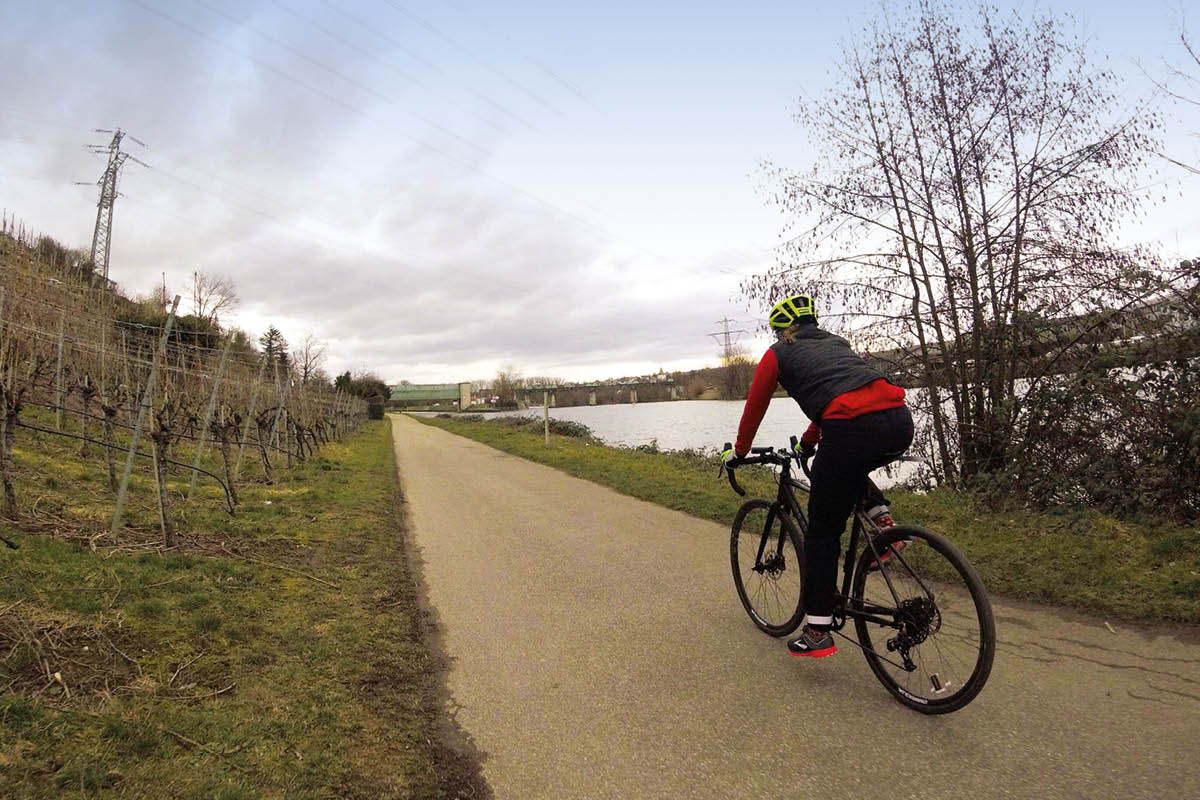 Cycling gaining ground
For example, the many cycling enthusiasts at LAPP show that bikes are not only a more sensible choice than cars but can also be an object of fascination. Joanna Amor from Marketing is a passionate cyclist: "I used to drive to work and was often sitting in traffic jam for an hour. That took up my valuable time and annoyed me". Now she almost always comes to work on her racing bike, covering the distance in just 30 minutes. She wants to live sustainably. And thanks to the showers and changing rooms at the European headquarters in Stuttgart, she has everything she needs to do this with no problems.
Her colleague Christina Stemmer is also a committed cyclist. "In the evening it's just faster on a bike than in the car and I can stop wherever I want, at the bakery for example, without having to find a parking space". It's only in winter when it gets cold and wet that the bike stays in her cellar. For some, cycling to work doubles as training for their leisure activities. LAPP employees regularly take part in cycle races and events – or organise them for themselves, as with the Giro d'Italia di LAPP.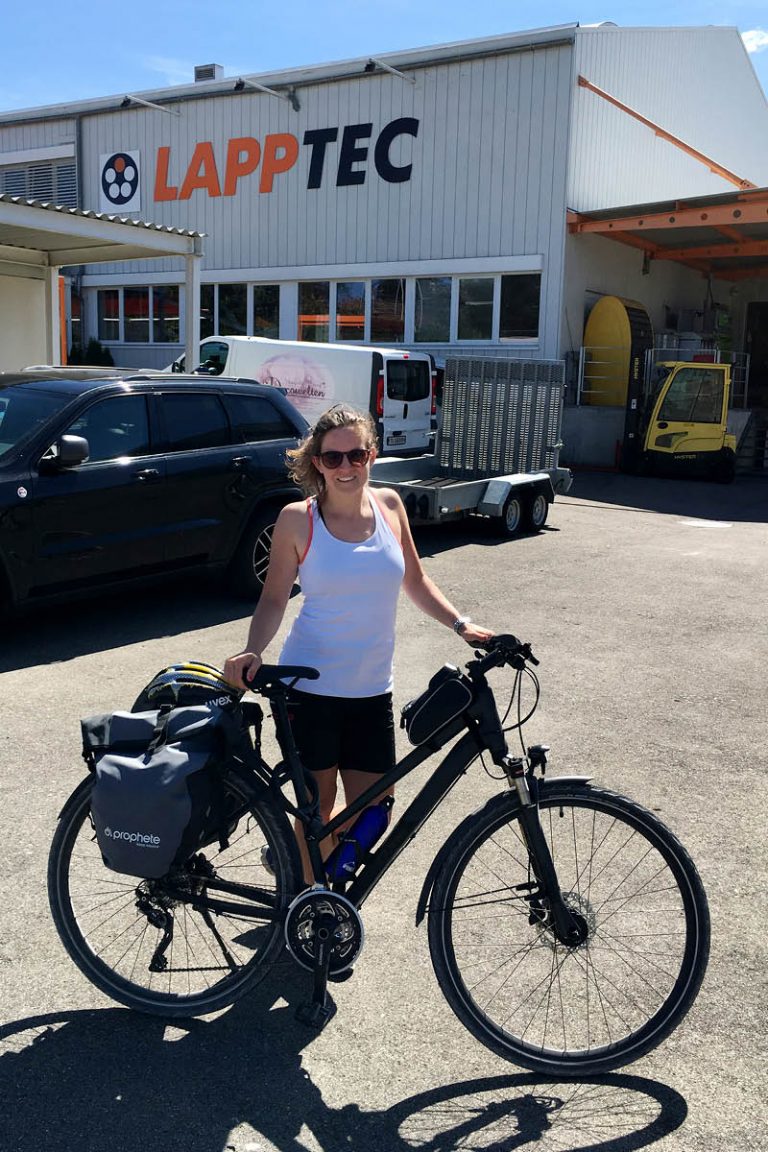 Flexible, diversified options
As well as cycling, switching to public transport is a good option. "But switching to public transport or cycling is often not feasible for employees because of the long distances, the topography and poor transport links between where they live and where they work", emphasises Andreas Lapp, Chairman of the Board of LAPP Holding AG. That's why LAPP is not betting everything on one card in Stuttgart, but is putting in place a variety of options that enable each employee to find the right solution for them.
LAPP has 55 bike parking spaces at its company headquarters, as well as nine connection points for free charging, nine showers and 56 lockers. There is also a scheme for buying bikes at discounted prices and of using one of the company's electric cargo bikes. Electric scooters are also available. The Stuttgart transport authority's company ticket is subsidised to the tune of €35 and the Lapp Kabel stop on the U12 tram line was opened four years ago. For drivers, there is a parking management scheme and a parking space exchange, 17 free charging points for employees with electric vehicles, as well as car sharing models. In addition, only electric and hybrid cars will be available for business trips from 2021. LAPP is also looking to promote alternative mobility options such as electric pedal scooters and electric scooters in the near future.
Managers at LAPP also want to travel more sustainably. Georg Stawowy, Member of the Board for Technology and Innovation is a good example. He lives around 13 kilometres from the company headquarters. He uses a mixture of car, bike and underground, depending on the specific situation. For him, this has improved his personal carbon footprint: "I reduced my annual car mileage by 30%". His initial motivation came during his student days in Aachen 30 years ago. There was a banner on a traffic intersection with the message: You're not in a traffic jam – you are the traffic jam. He told us: "Since then, the traffic situation has become much more difficult everywhere. But there is a massive gulf between recognising this and changing behaviour, which is so frustrating. I want to do what I can to resolve this conflict".
Mobility concepts at other LAPP sites
Fleximark AB in Sweden has no major traffic problems. The town of Nyköping is very small with only around 40,000 inhabitants and employees usually get to work without any problems by car, bus or bike. The distance to work is between five and 25 kilometres for the employees. There are also plenty of parking spaces for cars and bikes, and two showers that cyclists can use. For business trips in Sweden, Fleximark AB encourages its employees to take the bus or train or to form car pools if driving is necessary. However, sales staff use their cars every day, as they also have to show samples to customers. Because of Covid-19, there are currently considerably fewer journeys. Due to the successful online shop, this will probably continue to be the case in the future. At the same time, Fleximark is encouraging employees to take advantage of health programmes. Financial support is also available for these.
At LAPP in the Czech Republic most employees come from the surrounding area and only have a 10 – 30 minute journey. Many of them use public transport. There is even a bus stop named after LAPP. Others cycle or go to work on foot. There are limited parking options, which is why LAPP is participating in the Czech Republic's national "Cycle to work" scheme, designed to encourage employees to switch to public transport or cycling. It also involves providing parking spaces for bikes and changing facilities.
At LAPP India most of the employees travel to work using two or four-wheeled vehicles, with two wheels being the more popular. They are faster, more economical and easier to manoeuvre through the dense traffic. In the factory, the company provides its own transport either by bus or shared taxi. Most employees try to live as close as possible to where they work. But there are also employees who face travel times of one and a half to two hours every day. Other alternatives include the Ola and Uber taxi services, shared taxis and providers or car sharing schemes and shared bike services. All these alternatives are very convenient to use as they are app-based.