What does an engineer do when creating an electrical circuit diagram for a machine or control cabinet? Where are the major obstacles, what takes up their time, how can their work be made easier? Freya Stonawski and Patrick Olivan, Innovation Managers at LAPP, asked these questions of three electrical engineers from customers of different sizes in Germany and Italy. In summary, their response was that: Electrical planning is increasingly digital and engineers have to take on several roles, for example as planners and as buyers. "The respondents want simplicity and the fewest possible media breaks", Freya Stonawski reports. LAPP is implementing the findings in its own portfolio and also in partners' portfolios, for example by offering online configurators.
A key partner is EPLAN, the eponymous provider of the popular software solution for electrical planning in machine, plant and control cabinet construction – a kind of CAD software for electrical circuits that automatically generates parts lists. "Our customers download the LAPP cable catalogue from our portal in EPLAN around 400,000 times a year", says Robin Neitzke, who is responsible for Business Development Data Portal at EPLAN. This puts LAPP in the top 10 most used component manufacturers, alongside names like Siemens and Festo. LAPP is a leader in the cable segment and a strategic partner for EPLAN and their shared end customers. There is a great deal of mutual appreciation. "EPLAN is usually a key tool for our customers and is absolutely essential for their work", says Patrick Olivan.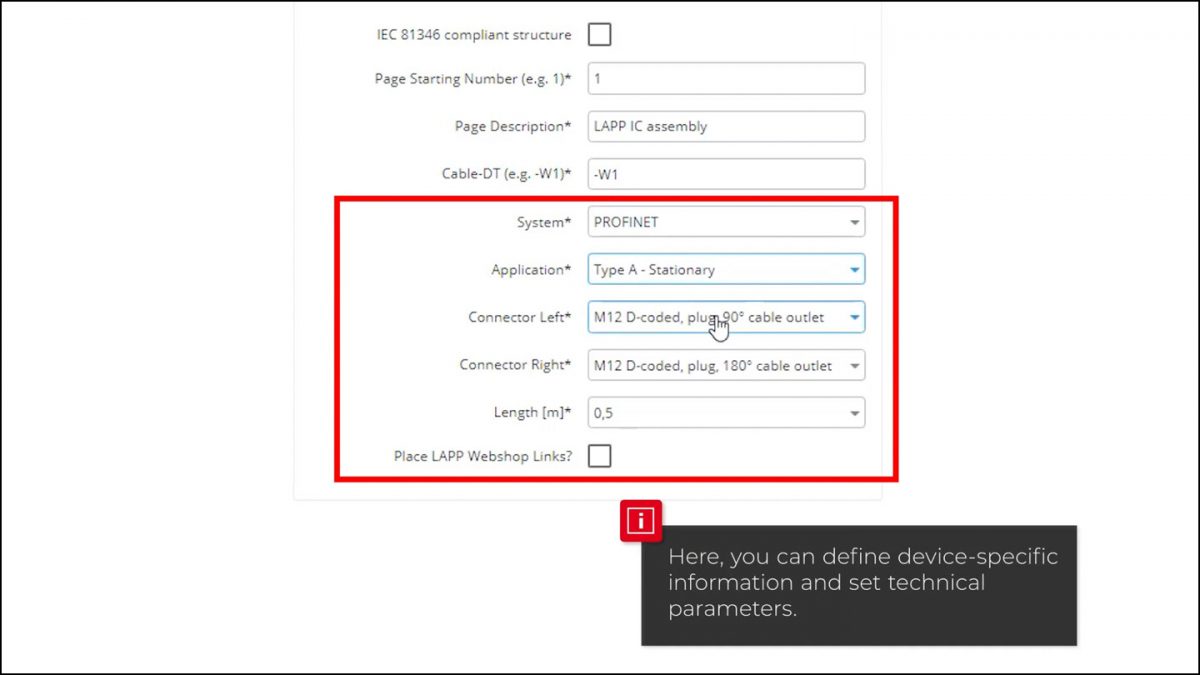 Video: © EPLAN Software & Service: EPLAN eBUILD: LAPP IC assembly – PROFINET® Patchcords
The successful long-term cooperation has now led to a pilot project aimed at addressing exactly the needs expressed in the two innovation managers' survey: eBUILD. The new module for EPLAN automates electrical planning with pre-assembled or individual libraries that the engineer can reuse multiple times at the touch of a button. LAPP features in eBUILD with a product finder for industrial data communication, initially for pre-assembled patch cables for Etherline connections. PROFINET® yes/no, fixed or mobile installation, male or female connectors – with just a few mouse clicks, the software guides the user to the right article, e.g. to a patch cable that connects an M12 connector with a 90° angle to a straight RJ45 connector via a two metre long cable. The connection appears immediately in the circuit diagram. Previously, a planner had to know exactly what the article was called and its properties to add it to the diagram. eBUILD makes it easier for even occasional users of EPLAN to get started with circuit planning, offering free of charge, predefined circuit sections for industrial communication products, an important growth market for LAPP. "This gives our shared customers a huge time and cost advantage", says Robin Neitzke. eBUILD is cloud based, which means it is always up to date, and as Freemium software it is also free.
eBUILD still has plenty of potential. A planner will soon be able to check a box in the selection screen to set whether a link to the LAPP online shop is to be output. Clicking on the link takes them directly to the shop, where they can order the article. The aim is to continuously enhance eBUILD based on customer feedback, for example to include more LAPP product families. Robin Neitzke and Patrick Olivan are looking to the future with great optimism: "With this joint project, LAPP and EPLAN are continuing to expand the partnership for universal digital circuit diagram engineering."