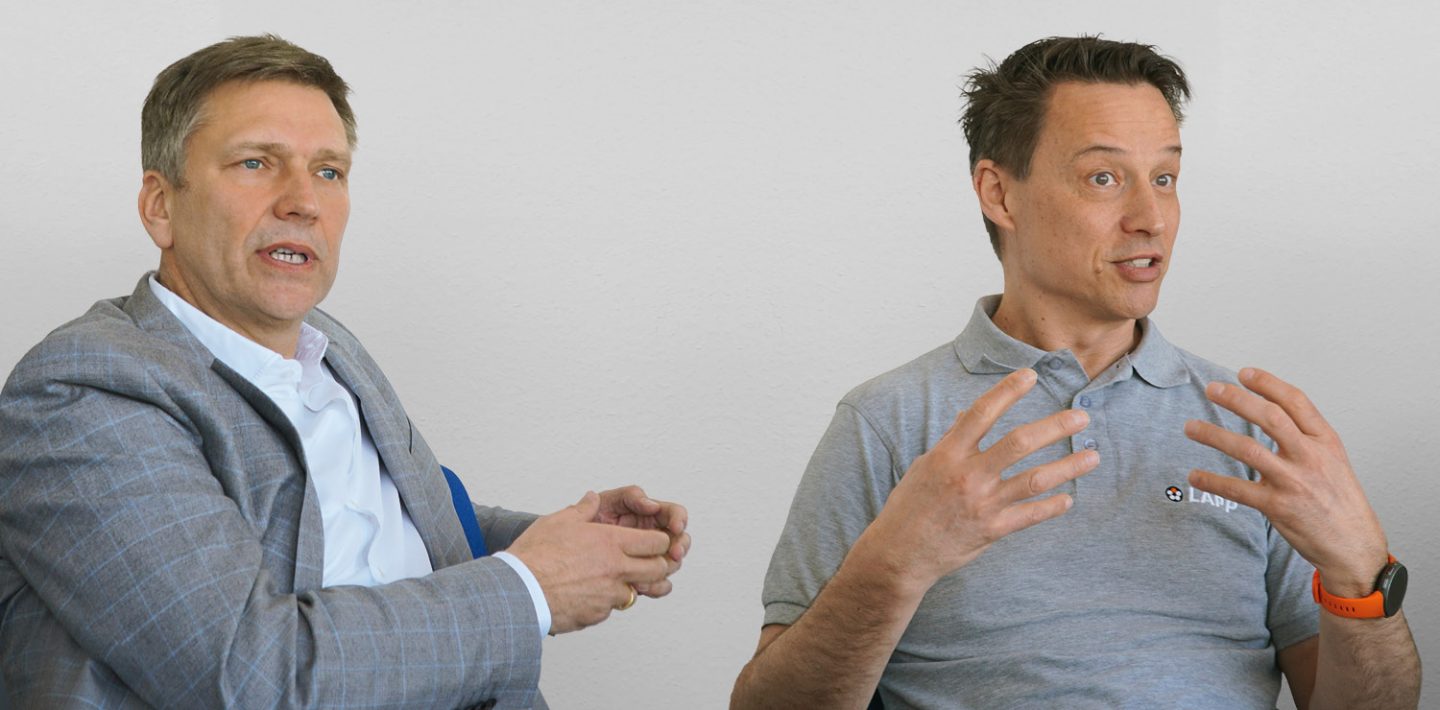 Mr Stawowy, Mr Mittnacht, how do you recognize good quality?
Georg Mittnacht: Quality is more than just a high-quality product, quality also means optimal service for the customer and punctual deliveries. In everyday life, quality also shows in our interactions with people. When we consider the interests of others, create synergies, and work together, quality becomes tangible.
Georg Stawowy: I think everyone has their own understanding of what quality means. We can say, for example, "This leather is of excellent quality!" On the one hand, quality is abstract, but on the other hand, it can be experienced by everyone. But I also associate quality with reliability. If I can rely on a product or an action, on people or a process, then that is also quality for me.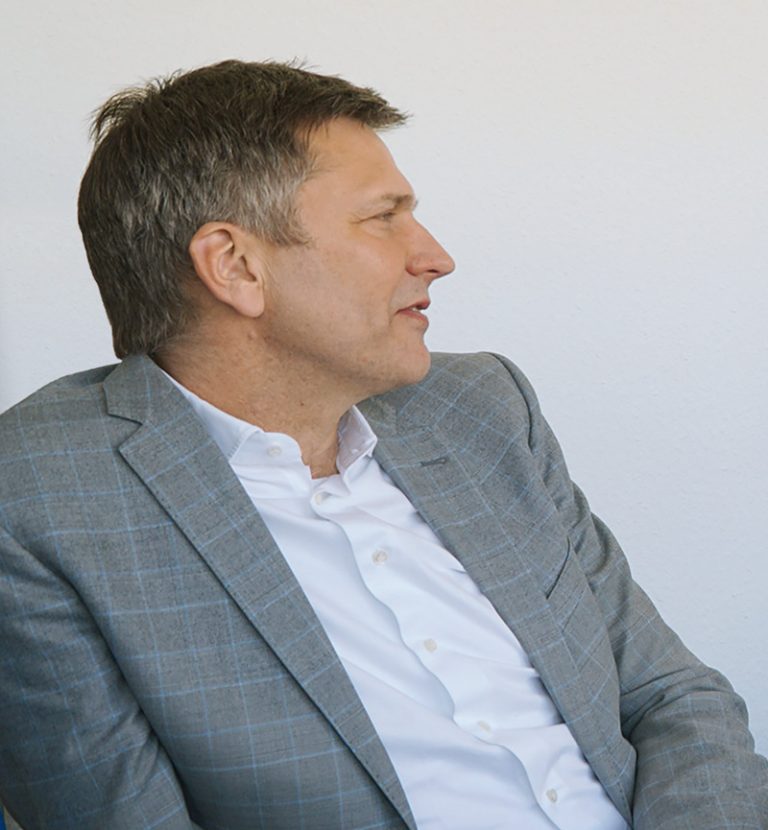 Where does LAPP currently stand in terms of quality?
Georg Stawowy: First of all, let me say that LAPP stands for quality. That is our distinguishing feature on the market and the reason why our customers buy from us. But it is not gifted to us: we have to keep this promise of quality every day and keep building on it. Due to current events, we experience a tense market situation with supply bottlenecks. At the moment, we have to prioritize our ability to supply customers under all conditions. Under pressure, mistakes can happen. That is not a problem, but we must learn from this "stress test" and continue to improve our processes so that such mistakes do not occur again. In order to be able to meet customer demands and deliver on time, we have to break new ground in some areas.
A fundamental challenge is the fluctuation in quality. When we talk about quality, we usually mean the excellent quality of our products. Thanks to our expertise, we can always ensure this high level of quality. When we look at all processes, however, it is also the small details that matter, which are neglected from time to time and then compensated for by the commitment of our employees. We want to sharpen the understanding for the important details throughout the entire group.
Georg Mittnacht: The cooperation with our close partners must also be characterized by our quality standards. For example, we can still evolve as an industry in the area of freight forwarding – especially because we differentiate ourselves in quality, we must always be one step ahead of our competition.
How can we meet these challenges and keep our promise of quality to our customers?
Georg Mittnacht: We distinguish ourselves by not being satisfied with the status quo, but always keeping the big picture in mind. We are ONE LAPP, we create synergies and together, we have to learn from mistakes so that we don't make them again. Good communication and prevention are essential for this, and we are currently undergoing this cultural change.
Georg Stawowy: In Japan, for example, this is exactly what has been understood and culturally developed and cultivated for decades. There they work with a 0-error philosophy. The goal is to avoid errors in every case. In individual cases, this may seem inappropriate. But, if we not only apply this philosophy in individual cases, but understand it as an attitude, it will make our work more efficient. That is where we want to go and that ensures our success.
So, the solution is a culture change in terms of quality awareness at LAPP?
Georg Stawowy: Yes. We formulated our global and functional quality strategy for this two years ago. What is important now is a change in thinking in the form of a cultural change – we don't want to curb mistakes, but at best prevent them before they happen. We are already working at a very high level, but we can continue to improve – quality at LAPP is a constant process.
Georg Mittnacht: Learning from mistakes and never making the same mistake twice is a simple formula and at the same time a complex task with our product diversity and our numerous customers.
At LAPP, we do not achieve this goal individually, but only together, by thinking outside the box and, as ONE LAPP, collecting and passing on improvements centrally for all national subsidiaries. Therefore, we see great potential in an efficient exchange of information. Artificial intelligence and databases can support us here. Nevertheless, if irregularities are noticed in everyday work, it is extremely important to communicate this.
What does that mean exactly?
Georg Stawowy: That means, for example, that we need a different understanding of our "qualifiers": We must not see them as know-it-alls. Rather, they build bridges between employees and departments and thus promote cooperation. As catalysts for change, they can support the challenges of the present and the future.
We can only achieve a cultural change if we recognize prevention as a key factor and then actively implement it in our everyday life. For the future, we want less front-line work and fewer outgoing goods inspections. That is why we now focus on quality planning – it enables smooth processes and minimizes errors.
Georg Mittnacht: Now we are working on ways to solve tasks more efficiently. An important factor in this respect is the staff. We want to create interfaces so that colleagues find incentives to share their expertise and skills. A simple solution for this is clean documentation: without much additional effort, we can store our knowledge in databases to facilitate quality work for colleagues from other departments in the long term.
Looking beyond one's own nose can be particularly efficient. This also applies to our corporate directives. We can support each other in their implementation and exchange ideas. That way, we harmonize and digitalize processes globally.
What can we be proud of today in terms of quality?
Georg Mittnacht: Many things! In our industry, we are the market leader in quality. We can build on a very high level. That is remarkable! We have competent employees and first-class know-how. Our own productions are the best. So, we can see: we can do it, we are good and we understand our cables down to the last detail. It gives me great pleasure to build on this!
Georg Stawowy: I think our LAPP spirit is great: in our company you notice that we are proud of our products. I am sure that a LAPPian would be hit if we delivered defective products. Our own standards are high and we live by them. We all have a desire for quality and excellent products.