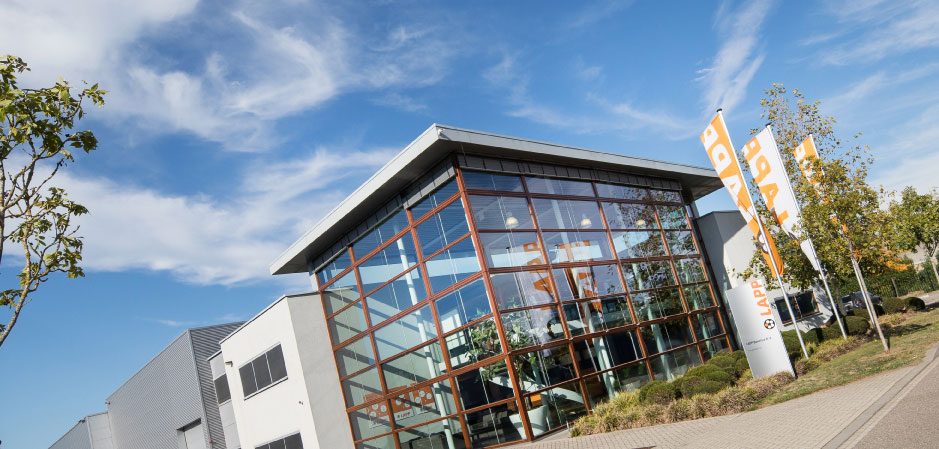 "We believe in customer centricity. We are always there for our customers and have our company precisely tailored to their respective wishes and needs. That is our recipe for success," reveals Ad van de Noort, Managing Director Lapp Benelux B.V. The company is growing strongly.
The figures speak for themselves: in the last three years, the sales of the national subsidiary have increased by almost 20 percent. In the same period, the number of employees has increased from 42 to 46. In the current fiscal year (2021/22), LAPP Benelux has gone into overdrive. Currently, 51 colleagues are working hard to remain successful. In addition, there are still six vacancies in various departments.
LAPP Benelux is headquartered in Waalre, near Eindhoven and in the south-east of the Netherlands. This makes the site centrally located in the Benelux. The success story of LAPP Benelux began as early as 1989, when the first Dutch sales subsidiary, Lapp Kabel B.V., was founded in Veldhoven. In 1996, the Belgian sister company Lapp Kabel BVBA was launched with an office in Turnhout. In 2001, both sales subsidiaries merged to form Lapp Benelux B.V. with the central location in Veldhoven. In March 2009, the new office building with attached warehouse was opened in Waalre. From there, the Benelux team serves customers in Belgium, the Netherlands, Luxembourg and, if required, our connectivity solutions for Benelux customers are shipped throughout the EU. Demand is particularly high for ÖLFLEX® CONNECT services and assemblies, ÖLFLEX® 110, single cores and solar cables.
Success factor: being broadly positioned
The most important focus markets for the national company are intralogistics, OEMs and switch cabinet manufacturers. Strategic relationships with sales partners are being consistently developed and expanded. The most important customers include system integrators for projects, distribution partners and wholesalers as preferred suppliers, but also many small customers who order via the e-shop.
The Dutch manufacturer of industrial sawing machines, Harwi, is a prime example of the best customer relations. In order to increase its own productivity and simplify assembly, Harwi opted for customized cable assemblies from LAPP. As a result, the machine manufacturer now saves four hours per machine built, which adds up to an extra machine every two to three weeks. In addition, the installation of the sawing machines on site is noticeably easier and the risk of incorrect cabling is reduced. A win-win project for both sides.
Productivity increased during the pandemic
Ad van der Noort on the strategy: "A high focus for us is on supporting existing customers in order to retain them and get them excited about our connectivity solutions. At the same time, we also target selected new customers." And this works very successfully. For example, the LAPP Benelux team was able to significantly improve its digital working methods during the pandemic. "Our working methods became more efficient. This led to higher productivity. By learning to structure our meetings even better, they take less time than before the pandemic," says van der Noort.